This Elite School Just Became One of the Largest to Eliminate SAT Scores in Applications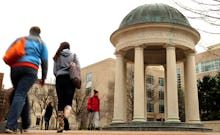 Standardized tests make up one of the most dreaded elements of the college admissions process for students across the country. Now, there are signs that colleges and universities are increasingly realizing that students' scores on tests like the SAT and ACT shouldn't be one of the primary considerations for determining who gets accepted into schools.
On Monday, George Washington University became the largest top-ranking private university in the nation to drop standardized testing requirements from its undergraduate admission process. Students will have the option to submit their SAT and ACT scores but can opt out if they feel the scores don't reflect their academic abilities.
The university said that the decision was part of an effort to broaden the diversity of its applicant pool and make the college more appealing to historically disadvantaged students.
"Although we have long employed a holistic application review process, we had concerns that students who could be successful at GW felt discouraged from applying if their scores were not as strong as their high school performance," Dean of Admissions Karen Stroud Felton said in a statement. "We want outstanding students from all over the world and from all different backgrounds — regardless of their standardized scores — to recognize GW as a place where they can thrive."
Are standardized tests fair? Standardized tests in the college admissions process were originally designed to make the application process simpler and more meritocratic. Early in the 20th century, the SAT was conceived as a way to judge all students against a common metric, and act as a counterweight to the role of socioeconomic class in determining the quality of the high school a student attended and their academic performance.
But as useful as the SAT and ACT are for creating a universal point of reference for academic ability, a number of studies have found that SAT scores consistently and significantly correlate with household income.  Of course, wealthy students can't buy good scores, but they are better positioned to take advantage of factors that would lead to better performance: a house in a neighborhood with good schools, extra books in the home, stimulating extracurricular activities, tutors, test prep classes and so on.
The college admissions community in the United States has been engaged in a sustained debate on how to deal with this challenge, and no consensus has emerged. But making test scores optional has gained some traction in recent years, and George Washington has just become one of the most prominent universities to join hundreds of others that have gone that way.
GWU, which can cost over $60,000 a year including room and board, created a task force for assessing student access and performance in 2014. The task force recommended dropping required test scores as part of a bid for prospective students who would likely perform well despite low test scores that discourage them from applying in the first place.
"The test-optional policy should strengthen and diversify an already outstanding applicant pool and will broaden access for those high-achieving students who have historically been underrepresented at selective colleges and universities, including students of color, first-generation students and students from low-income households," said Laurie Koehler, senior associate provost for enrollment management, said in the school's statement. "We hope the test-optional policy sends a message to prospective students that if you are smart, hard-working and have challenged yourself in a demanding high school curriculum, there could be a place for you here."
As the Washington Post notes, there are reasons to think this could work well for universities. Wake Forest University and many others report that they've been successful in recruiting more students of color since making tests optional in their admissions process, according to the newspaper. A National Association for College Admission Counseling study of 33 test-optional colleges found that students who don't submit test scores during the admissions process perform similarly to students who do.
There's a simpler way: GWU's reasoning for thinking more flexibly about its potential students is sound. But when it comes to obstacles to attracting disadvantaged students, there's an elephant in the room: the university's staggering cost of attendance. It's particularly striking in the case of GWU because its former president, Stephen Trachtenberg, has been credited with helping trigger the tuition arms race at private universities across the country. He once compared marketing a university to selling vodka, describing how packaging — nicer facilities, fancy room and board, higher tuition — can draw in wealthier, more competitive students. Making the admissions process more open-minded is a good idea, but the more obvious solution is creating higher education institutions that demand reasonable tuition and don't hold students hostage to their bids for power.