Topshop Just Agreed to Fix Its Mannequin Problem — and More Stores Should Take Note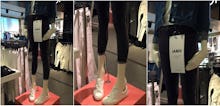 When it comes to realistic body image, change can come in mannequin form.
The U.K.-based retailer Topshop has agreed to stop ordering certain mannequins after being called out for "lack of concern for a generation of extremely body conscious youth."
British customer Laura Kate Berry posted a photo of the slim, highly stylized mannequin, spotted in the Topshop in the Cribs Causeway Mall in England, according to the Guardian, with a lengthy note for the retailer: 
"We come in all shapes and sizes. There is absolutely nothing wrong with being the size you naturally are. I believe we should all feel comfortable in our own skin. Having said that, this mannequin is quite frankly ridiculously shaped. Young women aspire to the somewhat cult image your store offers... Yet not one mannequin in your store showed anything bigger than a size 6."
Berry notes she's not trying to shame thinner individuals, but rather call out the wholly un-human mannequin — and call on Topshop to consider that diversity in sizes and shapes should extend to the images retailers scatter throughout their stores, not just the clothes. Her message resonated, with other Facebook users soon chiming in with criticism of the store. 
The good news: Topshop eventually responded in a comment to Berry's post, writing, "We think it's important to showcase a healthy size image, from the choice of models used in campaigns, to the stories featured online and on the blog. ... Going forward, we are not placing any further orders on this style of mannequin." (Mic reached out to Topshop for further comment.)
Mannequins as a body battleground: Topshop wrote in its Facebook response the mannequin was a U.K. size 10 (roughly a U.S. size 6), but with a height taller than the average girl. "The form is stylized to have more impact in store," they wrote, adding, "This is therefore not meant to be a representation of the average female body." 
That's long been the industry standard. In fact, Topshop faced similar backlash in October 2014 after a shopper tweeted a photo of her friend next to a mannequin with exaggerated, long legs that promptly went viral. 
"As representations of women, mannequins ... reflect the zeitgeist's idea of what a woman's body should look like," noted the Guardian at the time. They tend to function as aspirational models, not reflections of real life.
But that doesn't mean they can't — or shouldn't. 
The push for realistic mannequins has been underway in the U.K. for years. Jo Swinson, a 33-year-old British member of Parliament, led a campaign in 2013 to draw attention to the negative effects of unrealistic body imagery, including mannequins, particularly on young women. Showing mannequins with realistic body types "would only enhance people's body confidence," she told the Sunday Times.
And it's not impossible to do. Swinson attended the debut of size 16 mannequins at Debenhams, a major U.K department store, in 2013; and in 2014, JCPenney made headlines with mannequins that included a variety of styles modeled on real people. The forms ranged in size, height and weight and included a mannequin in a wheelchair and one with prosthetic legs. 
Thin mannequins are still the norm, as are "plus-size" mannequins that tend toward the slimmer side of the plus-size scale. And, of course, no plastic form can ever perfectly mimic a real body, with all of its lumps, curves and quirks.
But Topshop's swift response highlights the pressure customers can place on stores, leveraging the power of social media, to stop doubling down on unrealistic body standards. A mannequin, after all, is supposed to show how the clothes are supposed to look on real bodies — not dictate how the real bodies are supposed to change to fit the clothes.
h/t Time