Nicki Minaj and Meek Mill Drop "All Eyes on You" Video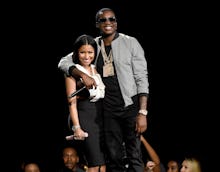 Finding true love at last isn't just for the movies: Powerhouse rapper couple Nicki Minaj and Meek Mill proved in their newly released music video "All Eyes on You" that happily ever after can be found in music videos too. 
The song is a slower-than-normal rap ballad for the pair, who have produced recent hits like "Big Daddy" and "Buy a Heart." Chris Brown provides the catchy chorus, crooning along as Minaj and Mill express their love for each other with steamy PDA.
Although Minaj and Mill aren't necessarily a new item, they've been a burgeoning power couple in the music industry, and rumors have been flying as to whether the ring Mill bought Minaj was part of a proposal.
The song is off Mill's newest album Dreams Worth More Than Money. Watch the video below: