New Poll Shows Donald Trump Is Smashing the Republican Field In New Hampshire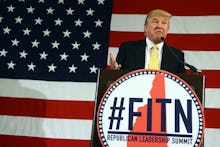 For the second time in three days, a new poll out of New Hampshire shows Donald Trump with a commanding lead over his Republican presidential rivals. 
This latest survey, from Monmouth University, finds Trump with double the support of Jeb Bush, capturing a 24% backing to the former Florida governor's 12%. No other candidate cracks double digits.
Trump's lead defies easy categorization. He has an overwhelming advantage with "very conservative" voters, carving out a 26-point lead over his nearest competitor, Wisconsin Gov. Scott Walker. Trump and Walker also run first and second among tea party supporters, with Trump winning 35% to Walker's 13%. "Somewhat conservative" respondents also prefer Trump, who scored 22% to runner-up Ben Carson's 10%.
The controversial real estate developer has an 18-point cushion with Republicans under 50 years old and an 8-point lead with the over-50 crowd. More importantly, he polls remarkably well outside his own party. Twenty-nine percent of registered independents and first-time voters backed Trump. This is especially important in New Hampshire, which allows unaffiliated voters to cast a ballot in the GOP primary.
The Monmouth poll is the first New Hampshire poll conducted entirely after Trump made waves by publicly questioning the heroism of Vietnam veteran and former prisoner of war Sen. John McCain (R-Ariz.) during a forum in Iowa on July 18.
The criticism and condemnations that followed those remarks "do not appear to have slowed the Trump steamroller," Monmouth University pollster Patrick Murray wrote in his assessment of the survey results.
Winners (not named Trump) and losers: The poll also provides some positive early momentum for the most recent entrant into the Republican contest. Ohio's John Kasich, the most popular of the sitting governors in the race, is tied for third place with Scott Walker at 7%, ahead of formidable contenders like Sens. Marco Rubio (Fla.) and Rand Paul (Ky.).
Walker, meanwhile, is the best-liked of the candidates. His 57% favorability rating is the strongest in the field. Only 16% said they had an unfavorable view of the Wisconsin governor. For all his support, Trump remains a divisive figure, with a narrow 47-44 split in his favor.
Asked who they would support if Trump was not in the race, Walker (14%), Texas Sen. Ted Cruz (14%) and New Jersey Gov. Chris Christie (15%), reaped the greatest benefits.
But there is no indication the now firmly established frontrunner has any plans to leave this race anytime soon. He is primed to play a starring role in the coming Republican debate, on Aug. 6 in Cleveland, and into the early voting states in 2016.