Minnesota Dentist Kills Beloved 13-Year-Old Lion "Cecil" on Zimbabwe Safari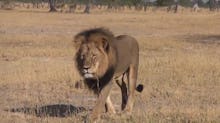 A Minnesota dentist is under fire for his role in killing a beloved 13-year-old Zimbabwean lion named Cecil. Walter Palmer was identified by the Telegraph as Cecil's killer and according to sources reportedly spent more than $54,000 to bribe park guides for the privilege, according to the BBC.
Cecil had been a major tourist draw at Zimbabwe's Hwange National Park. The lion, who was reportedly fond of humans, was also part of an ongoing research project with Oxford University. Cecil had worn a GPS collar that allowed researchers to track his movements. 
It is illegal to kill a lion inside the national park in Zimbabwe. According to the BBC, the hunters used bait to lure Cecil outside the preserve where Palmer then shot it with a bow and arrow. The animal, however, lingered for more than 40 hours, before hunters eventually finished it off with a rifle. When he was found, he had been skinned and decapitated.
"As far as I understand, Walter believes that he might have shot that lion that has been referred to as Cecil," a spokesman for the hunter told the Guardian. "What he'll tell you is that he had the proper legal permits and he had hired several professional guides, so he's not denying that he may be the person who shot this lion. He is a big-game hunter; he hunts the world over."
Palmer issued a more complete apology after a blizzard of negative social media reaction.
A statement from Zimbabwe National Parks said Palmer's fellow professional hunter, Theo Bronkhorst of Bushman Safaris, will face charges for the killing. "Theo Bronkhorst, a professional hunter with Bushman Safaris, is facing criminal charges for allegedly killing a collared lion on Antoinette farm in Gwayi Conservancy, Hwange district on 1 July 2015," the Telegraph reported. 
His online presence reveals a prolific big game hunter, primarily documented on the hunting website, Trophy Hunt America. In 2008, Palmer pleaded guilty to charges he lied to federal wildlife officials about the details of a black bear hunt in Wisconsin, the New York Times reported. Multiple calls to his office were unsuccessful. As of noon Tuesday, however, Palmer's practice's Yelp page was overrun with trolls, and his company Facebook page had been taken down. 
Whether Palmer himself is liable, animal rights activists rushed to condemn the hunt and the less well-known practice of lion poaching.
"Cecil is not the first lion to be hunted illegally in Zimbabwe," Pieter Kat, a trustee at the British charity LionAid, told Mic. "The fact that Cecil was enticed by bait out of a national park is a strong indication that the hunting concessions are so devoid of lions that they now need to resort to illegal activities." Kat said the problem was rife not just in Zimbabwe but also neighboring countries like Cameroon, Zambia and Tanzania. 
Online, British comedian and noted animal rights advocate Ricky Gervais weighed in with a post lamenting Cecil's death for "fun."
Lion populations on the continent have been declining for decades, both as a result of poaching and habitat loss. A 2014 study by PLOS ONE found, "The lion has undergone a catastrophic collapse in West Africa. Our results suggest that lions have lost almost 99% of their historic range, and that only ca. 400 individual lions persist across the region." As a continent, Africa has lost about 75% of its lion population over the last 50 years. 
In a statement to Mic, PETA cofounder and president Ingrid Newkirk called for Palmer's execution. "Hunting is a coward's pastime," Newkirk said. "If, as has been reported, this dentist and his guides lured Cecil out of the park with food so as to shoot him on private property, because shooting him in the park would have been illegal, he needs to be extradited, charged and, preferably, hanged."  
Cecil's death will also now result in the deaths of his six lion cubs who will be killed by a new male lion in an effort to convince female lions to mate with him.
"That's how it works," Johnny Rodrigues, head of the Zimbabwe Conservation Task Force, told the BBC. "It's in the wild; it's nature taking its course."