Marguerite Moreau: What the 'Wet Hot American Summer' Actress Has Been Up To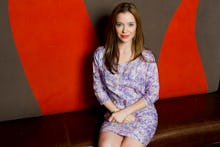 Few movies have typified the cult classic genre better than Wet Hot American Summer. The 2001 film follows an oddball band of camp counselors wanting to make the most of their last day of summer camp, which includes trying to get laid, saving the camp from an errant NASA satellite plummeting toward Earth and a gay wedding. 
Marguerite Moreau, whose name might not carry the same star quality as her co-stars, was the film's central love interest of Gerald "Coop" Cooperberg, played by the movie's co-writer, Michael Showalter. She is among the movie's original cast members returning to Camp Firewood for the Netflix original series Wet Hot American Summer: First Days of Camp, available for streaming July 31. 
What has Moreau been up to since 2001? Unlike her big-name Wet Hot American Summer counterparts (Bradley Cooper, Amy Poehler and Janeane Garofalo, to name a few), Moreau, 38, has maintained a relatively low profile since shooting the original film. The actress has held a number of supporting roles on shows like The O.C., What About Brian, Parenthood and Shameless, and acted in the movies Queen of the Damned and Runaway Jury. 
In 2010, Moreau married actor Christopher Redman, whose filmography includes roles in Stargate SG-1, Saved, CSI: Miami and Graceland. The quiet couple, who have never been much for the spotlight, welcomed their first child, Casper Hayes Redman, earlier this month, according to Us Weekly. 
Moreau, who has a modest social media following (under 4,000 Twitter and 9,000 Instagram followers) revealed her pregnancy on July 6 when she posted a photo to her Instagram account with the caption, "Oh! This has been also going on for the last nine months."  
Moreau was born in Riverside, California, in 1977 and began her acting career in 1994 as Melanie on the TV series Blossom. Early acting gigs included guest appearances on Boy Meets World and 3rd Rock from the Sun.
Moreau will reprise her role as Katie in the upcoming Netflix original. In the vein of Netflix's Arrested Development revival, Wet Hot American Summer: First Days of Camp will star many of the movie's original cast, but also some new faces, including guest stars Kristen Wiig, Michael Cera and Jon Hamm. 
The eight-episode series is a prequel to the 2001 original and centers on the same group of hormonal teenagers (the actors' ages were central to the original film's comedic quality, now even more so that they're 14 years older). 
But expect some surprises, according to the series' director, David Wain. "You'll hear the origin story of just about every character from the original movie, and many of them are very, very different than what you might expect," Wain said of the reboot, according to Newsweek. "It's definitely the same tone and world and characters as the original movie, but it's also new."