'Fuller House': John Stamos, Lori Laughlin and Updated Cast List for Netflix 2016 Series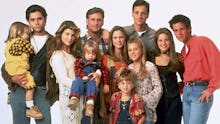 If you weren't already aware, Full House is back, and it's fuller than you ever remembered. In April, John Stamos announced on Jimmy Kimmel Live! that Netflix would be picking up the popular TV show for a 13-episode spinoff. 
TVLine previously reported actresses Candace Cameron-Bure, Jodie Sweetin and Andrea Barber had agreed to reprise their roles as D.J. Tanner-Fuller, Stephanie Tanner and Kimmy Gibbler. Stamos will return to guest star as Uncle Jesse, and will also serve as the show's producer.
While the rest of the cast's inclusion was still being speculated, on Monday, Stamos made two characters' returns quite clear on his Instagram account, confirming the return of Lori Loughlin as Aunt Becky:
Stamos captioned the picture, "Becky and Jesse together Forever. #FullerHouse. #Netflix"
According to the IMDb Fuller House description, this time around the roles are reversed, and the kids we grew up with in Full House are all grown up. "D.J. Tanner-Fuller is a widow and mother of two who is expecting a third. Things become too much to handle, so she asks for help from her sister Stephanie and her best-friend Kimmy," the IMDb summary reads.
The site also reveals the title for the first episode, "Our Very First Show, Again," which perfectly coincides with the original first episode of Full House's title, "Our Very First Show."
Below is the full list of actors and actresses signed on to the show so far, according to IMDb:
Stamos told Kimmel the project has been difficult to maneuver, and the producers are trying to get even Mary Kate and Ashley Olsen back on the show. However, if that's not possible, Stamos said he'd just dress Kimmel up to play the role of Michelle.
Full House, which originally aired from 1987 to 1995, continued to have years of success through its television reruns throughout the 1990s and 2000s. The show had 192 episodes and established careers for many of its actors, including Stamos, Bob Saget and the Olsen twins.