Jeb Bush's Response to Trump's Comments About Mexicans Show the Personal Side of Politics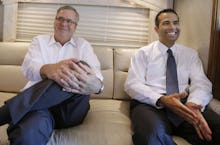 As Donald Trump's verbal incontinence drives the national Republican establishment to tear at its scalp with nail-bitten fingers, the billionaire candidate's most outrageous invective may actually be doing some good — for his most powerful opponent.
Trump's now-familiar comments about Mexican immigrant "rapists," and his subsequent doubling down on the epithet, has provided an opening for former Florida governor and current presidential candidate Jeb Bush to highlight his own personal connection with the immigrant story. In an interview with Telemundo conducted entirely in Spanish (in which Bush is fluent), the once-and-future front-runner and father of three biracial children opened up about the damage that Trump's rhetoric has done to the Latino community, his commitment to enacting immigration reform and how his own family connection has shaped his response to the immigration debate.
"I was hurt, hearing somebody speaking in such a vulgar fashion," Bush said in response to Trump's comments. "This makes the solving of this problem much more difficult when we have politicians talking like that. We cannot progress."
"People who hate are not the majority." Although Bush himself is the chosen son of one of the WASP-ocracy's most storied dynasties, his wife, Columba, is the Mexican-born daughter of a migrant worker. The couple met while Bush, then a prep-schooler at the Phillips Academy in Andover, Massachusetts, was teaching English in the small village of León, Mexico. Forty-one years of marriage later, Bush's nuclear family embodies a growing population of racially blended Americans.
When asked by Telemundo anchor José Díaz-Balart about any instances where his children were targeted "either because of the color of their skin or their accent," the former Florida governor had little trouble recalling a specific event. "I remember there was a time when my son went to Ocala to play baseball," Bush said. "And [the opposing team] spoke horrible things about those from Miami. And, naturally, I had to explain or describe that people who hate are not the majority, and we must accept them and move forward ... he was quite upset."
Although the diversity of his adopted hometown of Miami largely inoculated Bush's family from overt racism, he said, "in other parts of the country, it exists. It's a good lesson to learn, to always remember that we still don't have a country that's full justice for all. We can see this in the African-American communities also. There's discrimination still. And in my life, it's important to acknowledge this, and to act about that."
Bush also took the interview as an opportunity to pledge to make immigration reform a priority if he were to be elected. "I do make that commitment and I know we can do it," he told Díaz-Balart. "We can have an immigration reform that will solve the problem for 11 million people who are undocumented and living in the shadows."
It's a crucial moment of humanization. As the candidate with the highest name recognition in the Republican field, (Trump, as always, excepted), Bush has had a difficult time wielding the double-edged sword that comes with sharing a surname with one of America's most controversial presidents. "When you love someone as your brother or your dad, it's not easy for me to say, just kinda throw them under the bus to make myself look better," Bush told ABC's David Muir following his campaign announcement. "I just can't do it."
Trump's domination of the campaign news cycle has left the 15 other Republican candidates fighting for scraps of attention, driving a competition with the apparent goal of determining who can make the most outrageous statement in 140 characters or less. Bush's softer, more adult response to Trump's comments on immigration draw a stark contrast to the rabble. It's this kind of sensitive, mature commentary on an emotionally fraught issue that could persuade voters that Bush is the only adult at the table.
Trump's expectorations on immigration and race have also given Bush the ability to highlight his human side in an organic way. Columba, famously wary of the political spotlight her husband grew up in, has spent decades trying to shield herself from media scrutiny, with mixed results. Considering the unspeakable indignities imposed upon John McCain's family by Bush's own father during the 2000 Republican primaries, her self-imposed invisibility on the campaign trail may not be a bad idea.
The family picture may not be a fix-all, however. Bringing up his family's diversity does risk alienating a Republican base still wary of immigration reform and Bush's position on it. According to an NBC/Wall Street Journal poll, 62% of Republican primary voters say they would view less favorably a candidate "who supports a pathway to citizenship for foreigners who are currently staying illegally in the United States." Republican voters have a history of punishing lapses in orthodoxy, even when family gets involved — after Sen. Rob Portman (R-Ohio) became the first Republican senator to openly support of marriage equality, a move he made after his son came out as gay, 41% of his party base said they viewed him less favorably.
Even pro-reform advocates aren't completely convinced. In a statement to Mic, Carlos A. Sanchez of People For the American Way said that Bush's intimate response to Díaz-Balart's questions is a smokescreen. "No matter if he speaks in English or Spanish, by continuing to oppose a path to citizenship and opposing the president's actions on immigration reform ... that protect DREAMers and families from deportation," Sanchez said, "Jeb Bush shows he doesn't stand with Latino families."
According to Sanchez, it will take more than portraits of a diverse family to convince Latinos that any Republican means business on immigration reform. "Jeb Bush is on track to do no better than Romney did with Latino voters in 2012," Sanchez said. "That's because the Republican Party has such an anti-immigrant brand, and Bush continues to pander to the far-right base of the GOP."