Nicki Minaj's Ex, Safaree Samuels, Rips Her on New Track "Lifeline" for Stealing Lyrics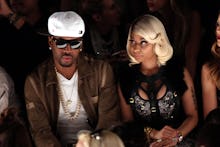 Another day, another diss track. 
Hip-hop's newest royal couple, rappers Nicki Minaj and Meek Mill, have had a rather turbulent seven days: Both have engaged in full-on Twitter wars (Minaj vs. Swift and Meek Mill vs. Drake), and now the two have each been handed separate diss tracks from other rappers. The latest comes from Minaj's ex-boyfriend of over 10 years, Safaree Samuels.
"Lifeline," Safaree's latest track, released Tuesday morning, is a fiery new diss anthem aimed at the burgeoning power couple. It comes just days after Drake released "Charged Up" Saturday night on Drake's Beats 1 Radio program as a response to Meek Mill's allegations that he hires ghostwriters (even though it's never actually been a secret that Drake employs writers).
Among some other admittedly haunting shots fired at both Meek Mill and Minaj, Safaree claims his ex stole many of the lyrics in her verses throughout her latest album, The Pink Print. "I hear the mumblin', I hear the cacklin', I got 'em scared, shook, panicking," Safaree raps, referring to what's arguably one of Minaj's most popular songs titled "Roman's Revenge." "That's really my pen game, nothing damaging," Safaree says, alluding to the idea he has actually been behind Minaj's hits all along.
Some of Safaree's insults poke fun at Minaj's boyfriend looking ugly, fat and poor, but the real stings happen when he talks about Minaj herself:
"Hope you go platinum, my n*gga she need a better ring / I thought I left her so she could move on to better things. Maybe a ball player / Maybe a soccer player, maybe a billionaire like Mariah Carey / But n*gga I don't really care, I really do not care / They say Safaree heartbroken, let me shed a tear / Fuck if you cheated, twelve years a slave anyway."
Both Minaj and Meek Mill don't seem to be backing down from their resilient positions in the music industry. Although Minaj hasn't had an official response to the allegations from her ex, Meek Mill seems unimpressed by Safaree's track:
Besides, the Philadelphia-based rapper has already moved onto (or back to) bigger things, like penning his response to Drake's "Charged Up," (Let's hope there aren't any ghostwriters employed on this.)