Michael Cohen, Donald Trump Adviser, Apologizes for Marital Rape Comment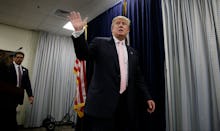 A top adviser to Republican presidential frontrunner Donald Trump offered an apology Tuesday for a comment he made to a reporter suggesting that there's no such thing as marital rape. 
"As an attorney, husband and father, there are many injustices that offend me, but nothing more than charges of rape or racism," Trump adviser and lawyer Michael Cohen said in a statement obtained by CNN, in response to the outcry following his comments that marital rape is not a real thing.
"They hit me at my core," Cohen said. "Rarely am I surprised by the press, but the gall of this particular reporter to make such a reprehensible and false allegation against Mr. Trump truly stunned me. In my moment of shock and anger, I made an inarticulate comment — which I do not believe — and which I apologize for entirely."
The original remarks came during an interview with the Daily Beast, published Monday, that centered on decades-old allegations that Donald Trump physically and sexually assaulted his then-wife Ivana Trump before the pair's divorce in 1992. 
When the Daily Beast asked about Ivana Trump using the term "rape" to describe an alleged violent incident she had with Donald Trump in 1989, Cohen responded, "It is true. You cannot rape your spouse. And there's very clear case law."
The full statement reads: 
"You're talking about the frontrunner for the GOP, presidential candidate, as well as a private individual who never raped anybody. And, of course, understand that by the very definition, you can't rape your spouse."
Marital rape is illegal in all 50 states. 
Ivana Trump's rape assertion came during a deposition in the couple's early 1990s divorce case. According to the Daily Beast, Ivana Trump described a time the real estate tycoon violently assaulted her. Reporter Harry Hurt III later recalled the encounter in the 1993 book Lost Tycoon: The Many Lives of Donald J. Trump.
In it, Hurt describes how Donald Trump allegedly pulled out chunks of Ivana Trump's hair and held her down by her arms while he assaulted her. Hurt claims Ivana Trump told others that her husband had raped her. 
Donald Trump has denied the allegations several times, and Ivana Trump later said she did not mean rape in the "criminal sense."
"During a deposition given by me in connection with my matrimonial case, I stated that my husband had raped me," Ivana Trump said in a statement that appears on the first page of Lost Tycoon. "[O]n one occasion during 1989, Mr. Trump and I had marital relations in which he behaved very differently toward me than he had during our marriage. As a woman, I felt violated, as the love and tenderness, which he normally exhibited towards me, was absent. I referred to this as a 'rape,' but I do not want my words to be interpreted in a literal or criminal sense."