Hillary Clinton Refuses to Say Whether She Supports the Keystone Pipeline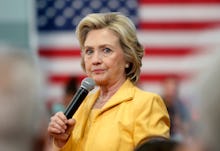 Hillary Clinton will tell voters what she really thinks about plans to build a controversial transcontinental oil pipeline, but only after the Obama administration decides its fate or, alternatively, she is elected to the White House in 2016.
Clinton was asked during a town hall meeting in Nashua, New Hampshire, on Tuesday if she would sign off on the construction of the Keystone XL pipeline as president. Clinton paused, then punted the question.
"This is President Obama's decision, and I am not going to second-guess him, because I was in a position to set this in motion and I do not think that would be the right thing to do," she said, referring to her involvement in negotiations over the pipeline during her time as secretary of state. "So I want to wait and see what he and Secretary Kerry decide. If it's undecided when I become president, I will answer your question."
Clinton's refusal to stake out a position stands in stark contrast to her two main Democratic primary rivals. Both Sen. Bernie Sanders (I-Vt.) and former Maryland Gov. Martin O'Malley have repeatedly stated their opposition to building the pipeline.
"Real leadership is about forging public opinion on issues like Keystone — not following it," O'Malley's deputy campaign manager Lis Smith said in a statement Monday, noting that O'Malley's recently unveiled climate change plan "rejected short-term fossil fuel fixes like the Keystone pipeline and offshore and Arctic drilling."
Sanders has likewise consistently opposed the pipeline, having voted against a bill to approve the project earlier this year. He recently used the issue to highlight differences between himself and the frontrunner.
"Because of concerns about climate change, I strongly opposed the proposed Keystone XL pipeline," he said in a statement on July 14. "Secretary Clinton has not voiced an opinion."
Reporters in New Hampshire followed up with Clinton after the event, but she stuck by her initial explanation.
"I have been very clear," she said, according to Politico. "I will not express an opinion until [Obama and Kerry] have made a decision, and then I will do so."
America Rising, the Republican-backed super PAC, quickly posted a clip of the exchange on YouTube, titled "Clinton on Yes or No on Approving Keystone: No, I Won't Answer Your Question."
The future of the pipeline is currently hanging in regulatory limbo. In April 2014, Kerry's State Department decided to extend its review, citing pending litigation in Nebraska. Clinton unveiled her climate change plan on Monday to mostly positive reviews from prominent environmentalists, but then, like now, she did not address the Keystone question. 
If TransCanada, the company vying for federal approval, is given the green light, an estimated 700,000 barrels of carbon-thick oil sands would have a nearly direct, underground line from north of the border to oil refineries on the U.S. Gulf Coast. Supporters argue building and operating the pipeline will bring thousands of "ongoing, enduring" new jobs, while critics dispute the promised economic benefit and warn of the potential for devastating leakage and ecological damage.