Lollapalooza 2015: Lineup, Ticket Info, Schedule and More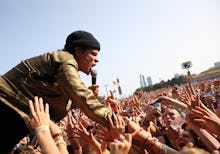 One of the largest and most highly anticipated festivals of the summer is just around the corner, and the Lollapalooza 2015 lineup seems to have that eclectic variety of tastes to appeal to just about anyone's musical palette.
Some of the biggest names in the music industry will be taking the stage in Chicago's Grant Park during Lollapalooza 2015 on Friday, July 31, through Sunday, Aug. 2. 
From names like Metallica and Paul McCartney (who performed at just one other festival this year) to music festival newcomers sure to make a splash, such as Lion Babe and FKA Twigs, the event is going to be a nonstop and must-see action-packed day for music. 
Although the event's website is only offering VIP and Platinum passes left for the weekend (which range between $1,800 and $3,600), some places like Stubhub and Vivid Seats are still selling three-day passes to the festival for $300 to $400. 
Or you can always stream the event live from Red Bull's television service, which will be sponsoring Lollapalooza.
The artists seem to be getting super stoked for their upcoming Lollapalooza performances — for the most part:
But there's probably no need for Wonderland to worry: In years past, Lollapalooza has hosted crowds of more than 160,000 people, and we're thinking some of those must be fans of the Sydney-based DJ's popular hits. If you haven't heard of her yet, you can check out Wonderland's new music video.
The weekend's packed schedule can be found and printed through the event's website here.