Mark Cuban Says Donald Trump Is "Best Thing to Happen to Politics"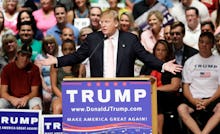 Donald Trump has riled a lot of people in recent weeks with his unbridled insults about Mexicans and war heroes, among other things, but the presidential hopeful's reckless spirit has gained him at least one ally: Mark Cuban. 
The billionaire businessman, who's had a regular post on ABC's Shark Tank since 2011, applauded Trump's brash public persona, calling the GOP presidential frontrunner the "best thing to happen to politics in a long time."
"I don't care what his actual positions are," Cuban wrote Tuesday on his Cyber Dust app, according to Business Insider. "I don't care if he says the wrong thing. He says what's on his mind. He gives honest answers rather than prepared answers. This is more important than anything any candidate has done in years."
Cuban made his fortune during the 1990s dot-com bubble when he sold Broadcast.com to Yahoo for nearly $6 billion, according to Forbes. He has owned the NBA team Dallas Mavericks since 2000 and became a TV personality as a star of Shark Tank, where he bids on aspiring entrepreneurs' ideas and businesses against other investors.
Trump thanked Cuban for his endorsement via Twitter. 
Trump announced his candidacy for president in June in New York. Since his campaign began, the real estate mogul has stirred one controversy after the other, taking shots at nearly every other Republican candidate, insulting Mexican immigrants and offending war veteran Sen. John McCain, R-Arizona. 
Despite throwing around such insults, Trump has seemed to weather the fallout from his remarks relatively unscathed. The latest polls show Trump with a commanding lead over his fellow GOP contenders in crucial states like New Hampshire. 
Nationally, Trump has a comfortable 18-point lead over his rivals with Republican voters under 50 years old and an eight-point advantage with the over-50 group.