Kanye West 'Swish': Latest News, Track Listing and Release Date for New Album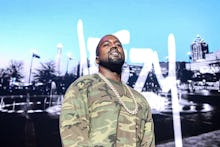 It's been two years since Kanye West blessed his fans with a new album, but rumors surrounding the rapper's latest studio project ignited before we could even finish listening to all of Yeezus. 
Originally titled So Help Me God, Swish appears to leave behind Kanye's fascination with the electro-acid house beats found in Yeezus and instead spans a field of musical genres. From his anthemic hooks in "All Day" to a soulful ballad featuring Paul McCartney in "Only One" (both recently released singles expected to appear on Swish), Yeezy is taking a bold step forward in his seventh studio album. 
Although there isn't much information being reported from West's camp, we are starting to find out more details about the highly anticipated work. One Reddit user uploaded an audio file (since deleted) to the site claiming it was recorded outside of a Swish listening party. The file was uploaded with a list of the song titles:
1) All Day
However, this is only an alleged list from the listening party. Even if this is the album West has been planning on putting out, it wouldn't be the first time he scrapped his work at the last minute. Radio reports West had been working on Yeezus for a full three years before he finally hired Rick Rubin and started the project over almost entirely from scratch. West and Rubin then completed recording an album with an entirely different feel in only 15 days.
Although there isn't a set release date as of yet, West told the radio hosts at Hot 97 he's been recording in the studio every day. "I'm working on it slowly, to make it an art project and deliver the innovation that I know I can and that I've consistently done since 808s and Heartbreak and My Beautiful Dark Twisted Fantasy."