Cara Delevingne Endures Terrible, Horrible, No Good, Very Bad Morning Show Interview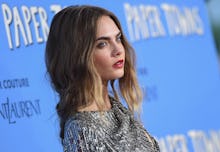 Cara Delevingne usually gives pretty great soundbite, but a trio of anchors for Good Day Sacramento didn't give her a chance.
In a recent satellite interview to promote her new movie, Paper Towns, the model-turned-actress starts tired and grows increasingly annoyed. One anchor calls her "Carla," and they collectively pepper her with pretty condescending questions like "did you get a chance to read" the book on which the movie is based. To her credit, Delevingne makes a joke and goes right back to promoting the movie, praising author John Green.
Then the anchors ask if it's easier for her to focus because she's so busy. Delevingne doesn't understand the question and comes the closest to being outright rude.
Still, she quickly turns it around, talking about how she loves the work and loves what she does. After another vapid but harmless question, a third anchor enters the equation. This is precisely the point everything goes to hell in a handbasket.
Delevingne is pretty clearly offended by being told she's not peppy enough (at least compared to another interview the anchor references) — and she's right to feel that way. This is the morning show equivalent of telling a woman she has to smile. But the actress tried to play it off.
This did not work.
It did not work at all.
Were this all not painfully awkward enough, the second Delevingne disconnects, the anchors start talking about her behind her virtual back.
Their attitude is a really irritating one, setting the conflict up as a David vs. Goliath, with them as the poor TV hosts just trying to have fun and Delevingne as the angsty, rude actress.
In truth, the interview has no greater impact beyond what happened in the moment. Delevingne has let it roll off her back, sending just one tweet about it Wednesday morning:
As a star on the rise, she'll have more awkward interviews in the future. As she becomes more famous, she'll likely learn tricks for getting through annoying morning talk shows.
Yet there's something about their treatment of her that bugs. Was she a bit more sour than she optimally could have been? Perhaps, but that's not an excuse to be so condescending or to talk about her behind her back. They might as well have been bitching that the panda at the zoo wasn't entertaining enough. Delevingne was not there for their amusement — she was there to do her job. If anyone was unprofessional here, it was the anchors. Each is older than her, yet none could muster up more maturity.
Watch the full interview below.
Wednesday, July 29, 12:01 p.m. This post has been updated.