We Got 100 People to Answer Carrie Bradshaw's Most Infamous Relationship Questions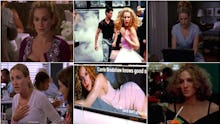 In real life, we often find ourselves mulling over what seem like uniquely difficult dating or relationship questions for hours and hours... only to feel like the most basic of bitches when we later realize Carrie Bradshaw already asked our very question back in 1999, and with better puns. 
But! Carrie rarely answered her famously open-ended questions. She certainly tried, albeit with a flawed methodology (a sample size of four wealthy, fictional New York City women comes with all sorts of biases). But today, when it comes to dating and relationships, we're supposedly smarter — or at least more crowd-sourced.
So we couldn't help but wonder: How would some of Carrie's best queries stand up in the 2015 court of public opinion? Using Google Forms, Mic surveyed 100 people to answer some of the most enduring questions ever posed on Sex and the City — and we've compiled the following handy charts you'll want to keep on hand for any future brunch sessions. 
Behold: The only Sex and the City data set you'll ever need.