These 13 Empowering Lyrics Are Pushing Back Against Hip-Hop's Misogyny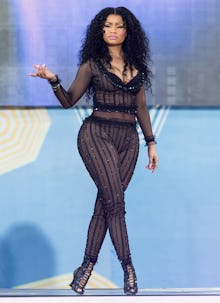 Hip-hop loves women. But most of the time, it's in all the wrong ways, for all the wrong reasons.
Misogyny has been deeply ingrained in the genre for years. "Bitches ain't shit but hoes and tricks / Lick on these nuts and suck the dick / Gets the fuck out after you're done," Snoop Dogg rapped in 1992, in one of most well-known lyrics in hip-hop history, up through the Bill Cosby that Rick Ross pulled in 2013 that got him dropped from his Reebok sponsorship: "Put molly all up in her Champagne, she ain't even know it, I took her home and I enjoyed that, she ain't even know it." Lyrics like these have made it challenging for listeners to feel they can be both feminists and fans. A 2009 analysis found that anywhere from 22% to 37% of hip-hop's lyrical content expresses some kind of degradation of or violence against women. 
Those are big numbers to live down, but hip-hop has been trying. And it seems to be doing better.
It's cool to be socially and politically aware in hip-hop again. From Fetty Wap and Kendrick Lamar to J. Cole, the biggest rappers of 2015 have boasted expansive views on the way society and culture treat women in their lyrics. This makes perfect sense. The best hip-hop reflects the time and environment in which it's made. So it stands to reason that as society becomes more accepting of genders and orientations, music will reflect it. 
Here are some of the songs that started that trajectory and continue to hold it down.
1. Queen Latifah — "U.N.I.T.Y."
"Every time I hear a brother call a girl a bitch or a ho
"U.N.I.T.Y." was a revolution when it dropped in 1993. The lyrics — "A man don't really love you if he hits ya ... I'm not your personal whore, that's not what I'm here for" — made it feel like a cosmic balance was being restored in hip-hop during a time when West Coast gangsta rap dominated the scene. Domestic violence is an unfortunate reality, which Queen Latifah reflected on during an episode of The Queen Latifah Show last September. This song is as relevant now as it was in 1993.
Listen to full track here.
2. Tupac — "Hold Ya Head Up"
"I wonder why we take from our women
"Hold Ya Head Up" remains one of Tupac's finest lyrical contributions, not only to the feminist cause, but to all of hip-hop. Though he didn't live up to his own words (he went to prison in 1995 for a molestation charge, though denied his accusations) he faced the facts, saying: "Even though I'm innocent of the charge they gave me, I'm not innocent in terms of the way I was acting," he told Vibe in 1995. "I'm just as guilty for not doing nothing as I am for doing things." The work that he left behind has served as a model for future generations to write their own patriarchal critiques — hopefully so they can leave behind a legacy far stronger than any Tupac could build.
Listen to the full track here.
3. Beastie Boys — "Sure Shot"
I want to say a little something that's long overdue
Hip-hop's feminist messages don't get more plain and simple than the Beastie Boys' "Sure Shot." Some critics have posited the lyrics as being a direct apology for an earlier song, "Girls," which runs down a series of misogynist tropes over a rinky-dink synth xylophone line. The song is so inane it's hard to see it as anything more than a joke. And yet, every rapper who has been called out for a misogynistic lyric has claimed their lyrics were jokes as well. If they all penned "apologies" like "Sure Shot" we would be looking at a very different genre than we are today.
Listen to the full track here.
4. Lauryn Hill — "Doo-Wop (That Thing)"
"Baby girl, respect is just a minimum
The truths of this song helped make Lauryn Hill a household name. Her 1998 hit, in which she spoke to the women who allow their lives be run by men who abuse their power, has none of the didacticism or condescension one might expect of a moralistic anthem. Hill admits she's "only human," and the imperfections make her take all the more arresting.
Listen to the full track here.
5. Common — "The Light"
I never call you my bitch or even my boo
"The Light" is one of the greatest hip-hop love songs ever recorded. It acknowledges the shortcomings that Common and so many rappers possess: "I know your heart is weathered by what studs did to you / I ain't gon' assault 'em cause I probably did it too." No rapper has a perfect track record when it comes to misogyny. But the song does shine in the way it reinforces a fundamental truth about equality: "I know the sex ain't gon' keep you, but as my equal / It's how I must treat you."
Listen to the full track here.
6. J. Cole — "Crooked Smile"
Take it from a man that loves what you got
Partnering with TLC, queens of the pop feminist anthem, is an excellent way to stake one's claim as a leader in crafting a new hip-hop culture. The song also contains a play on a line from Tupac's "Keep Ya Head Up" lyric that runs: "And when he tells you you ain't nothin', don't believe him." J. Cole is helping to bring the best of golden age hip-hop into the modern era, leaving the worst behind.
Listen to the full track here.
7. Drake — "Fancy"
"And you don't do it for the man, men never notice
In 2013 Kanye West told the world, "Drake is the first rapper to say, 'Hey, let's start respecting the women more.' He came and said, 'Wait a second, we're not just going to be, like, droppin' the b-word all day long because it does impact our women and take away from the idea of family.'" His words helped cement Drake's reputation as our sensitive rapper who speaks to the trials and tribulations of women. While not all of his depictions are free of problematic lines and overtones, he has helped make the genre more sensitive in the way it approaches the opposite sex. And every so often he comes through with a gem.
Listen to the full track here.
8. Fetty Wap — "D.A.M."
And right after we sex, I don't leave I just hold her
Fetty Wap is soaring on the Billboard Hot 100 with two hits back to back at #6 and #7. Both are odes to a pretty standard ride-or-die chick, with tender lines scattered here and there. But throughout Fetty Wap's catalog there are some really uncharacteristically passionate love lines, such as the above from "D.A.M." Cuddling is very in vogue in hip-hop right now.
Listen to the full track here.
9. Childish Gambino on Jhené Aiko's "Bed Peace"
Curled up with my head on your chest
The love song involves drugs, but Childish Gambino flirts with the idea that what he's feeling is more than a high in a verse off Jhene Aiko's "Bed Peace." He plays it cool, trying to convince himself "it's not love, but it's close." Though the truth comes through at times: "one soul, two halves."
Listen to the full track here.
10. D.A.M. — "Who You Are"
"We abuse her in Egypt then oppress her in Lyd
Palestinian rap group D.A.M. built their name criticizing the Israeli occupation of Palestine, but recently they've taken on new targets with their music. They added a female member earlier this year and premiered this track with the United Nations Population Fund, which is dedicated to combating sexism in the Middle East and improving reproductive health for women and girls. "We speak out against our own oppressive society, of course, but I believe it is just as important to criticize the hypocritical part of our society, which likes to play 'make-believe feminism' from time to time," Tamer Nafar, the group's co-founder, told +972 in March. There is nothing make-believe about D.A.M.
Listen to the full track here.
11. Kendrick Lamar — "Complexion (A Zulu Love)"
"A woman is woman, love the creation"
Kendrick Lamar shows love to black women of all shades on "Complexion." He discards all outward trappings and appearances to get to the heart of the matter: All beings come from the same universal source and all deserve love and respect. Rapsody's third verse on the track drives that message of expansive, open-armed, truly feminist love home: "Call your brothers magnificent, call all the sisters queens / We all on the same team."
Listen to the full track here.
12. Shad — "Keep Shining"
And I've been known to talk about women on a track or two
A "feel-good" track in every sense of the word, Shad's "Keep Shining" is a respectful praise of the women working through the shade of cultural misogyny in order to have their voices heard. He encourages more women to enter rap and not be satisfied with the way the music tries to "disrespect them on the dance floor." The revolution he preached in 2011 seems to be coming to pass.
Listen to the full track here.
13. Nicki Minaj — "Feelin' Myself"
I am a Rap legend
Two of the baddest women in the industry, Nicki Minaj and Beyoncé, meet on "Feelin' Myself" to create an empowering anthem that is as ruthless and rude as any boisterous, swagger-filled rap. "Male or female, it make no difference / I stop the world, world stop," Beyonce commands, and the music pauses.  When she's ready, she allows it to resume: "Carry on." That is power.
Listen to the full track here.