Frank Ocean New Album 2015: Latest News and Release Date Updates for 'Boys Don't Cry'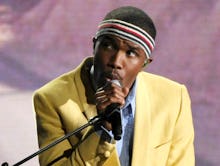 It's been three years this month since Grammy winner Frank Ocean dropped his critically acclaimed first studio album, Channel Orange, and took the music industry by storm. He's since performed on stages all over the world, received numerous accolades and quickly ascended the ranks as one of R&B's greatest vanguards. 
Then, the rising artist suddenly went MIA. For years, there was barely any sign of Ocean and hardly any new music. But in April, the singer put his fans on high alert after he alluded to a July release date for his much-anticipated second studio album. He may have even given away the album's name, Boys Don't Cry. 
Well, it's down to the wire, with only a few days left in the month. The question on most every Ocean fan's mind is simple: Where's the sophomore album we were kind of, sort of, promised?
New album release date. In April, Ocean posted a photo to his Tumblr that included a magazine titled Boys Don't Cry and a caption boasting "two versions," with the accompanying hashtags #album3 (Ocean released his debut mixtape, Nostalgia, Ultra, in 2011; however, it was not an official studio album) and #july2015.
Many fans interpreted the post to mean Ocean would finally be releasing his second studio album this year, and that it would be titled Boys Don't Cry. However, the artist has not confirmed the name, according to the Boombox. 
Fans have gotten beyond restless. Many have taken to social media to ask Ocean directly when they could expect the album. 
What we know about the new album. The album so far is almost a complete mystery. Little is known about what it could feature, although there's been some speculation about Ocean collaborations with Pharrell Williams, British singer King Krule and Tame Impala's Kevin Parker, among other artists. 
Ocean was photographed in December in the recording studio with California rapper Lil B. Lil B shared the photo on Instagram with the caption, "new music coming soon." An interview with Lil B is expected in Ocean's upcoming magazine, according to HipHopDX.
Despite all the wondering, many expect the album to be a music industry game-changer. "Everyone should be excited about this new album — that shit is fire," Nabil Elderkin, who directed Ocean's "Pyramids" video, told BuzzFeed in June 2014. "He's making a great record. It blows the sophomore album myth out of the water."
July 29, 2015 3 p.m. EDT: This story has been updated.