At Least 5 Black Women Have Died in Jail This Month — Here Are 10 Facts You Need to Know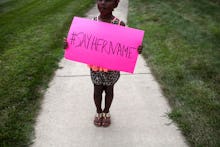 With the death of Ralkina Jones on Sunday, the number of known black women who've died in law enforcement custody in the United States this month rose to five.
The first two caused a national stir. Sandra Bland's alleged suicide by hanging in a Waller County, Texas, jail cell on July 13 sparked suspicion of foul play from her family members and advocates, prompting the hashtags #WhatHappenedToSandraBland, #SayHerName and #IfIDieInPoliceCustody to trend on social media. Bland was 28 years old.
The following day, Kindra Chapman died under similar circumstances. The 18-year-old's death by asphyxiation in a Homewood, Alabama, jail cell was ruled a suicide Monday by a Jefferson County coroner — a conclusion with which Chapman's family agrees, despite some outside suspicion.
Joyce Curnell, 50, was found dead in a North Charleston, South Carolina, jail cell on July 22, reports local television station WCBD. She was arrested for an outstanding bench warrant for shoplifting, and was seen at a local hospital the day before her death.
Ralkina Jones died Sunday by yet undetermined means at a Cleveland Heights, Ohio, jail. Police said she'd looked "lethargic" in her cell beforehand and was being shuttled back and forth from a local hospital the night she died, according to BuzzFeed. Jones was 37.
Most recently, officials found Raynetta Turner, a 43-year-old mother of eight, dead in a jail cell Monday in Mount Vernon, New York. Turner, who had been arrested for shoplifting at a food and restaurant supplier, also had multiple medical problems and was taken to a local hospital shortly after her arrest. 
Five women. Five ages. Five different circumstances surrounding their deaths.
Each woman lost their lives in ways that sparked much-needed discussions around how state violence affects black women, specifically.
To claim the same factors caused all of their deaths would be a disservice to their individual experiences. But as incarcerated black women in a time when discussions of black death and anti-black violence are largely oriented around black men, what happened to Bland, Chapman, Curnell, Jones and Turner begs our broader understanding of the unique disparities they faced as a demographic — and the myths we need to dispel about them.
Here are 10 facts to help put these women's deaths, and the suspicion surrounding them, in context:
1. Black women are disproportionately stopped by the police.
It's important, first, to understand how black women are targeted by the criminal justice system.
Bland was pulled over for failing to use her turn signal in Texas. But her being pulled over at all falls into a bigger national pattern: In 2013, for instance, more than 53% of all women stopped by the New York City police in 2013 were black. Black people overall make up just 27% of the city's population, Mic reports.
2. And they are more exposed to intersecting forms of police violence than their peers.
Black people are stopped, killed and incarcerated by American law enforcement at higher rates than almost any other demographic. But black women have an added danger to worry about: According to the think tank the CATO Institute, sexual misconduct was the second most-reported form of police misconduct in 2010.
A notable example of this sort of danger is former Officer Daniel Holtzclaw, who was accused of raping and assaulting 13 black women while on duty last year in Oklahoma City. He's out on bond awaiting trial.
3. They are more likely to be incarcerated.
Even as black women's presence in jails and prisons declined 30.7% from 2000 to 2009, they are still nearly three times more likely to be incarcerated in the United States than white women, according to the Sentencing Project.
4. Black women don't often die by suicide.
Men are far more likely to die by suicide than women, and suicide rates are far lower among black people — men and women alike — than any other demographic. But the same risk factors still apply: Previous suicide attempts, which Bland reportedly experienced, along with a history of depression and mental illness and feeling alone, are all risk factors no matter who experiences them.
5. But women are more likely to try than men.
Plus, women are generally more likely to express suicidal thoughts and make nonfatal attempts than men, according to the Centers for Disease Control and Prevention.
6. Black youth are killing themselves at higher rates today than ever before...
At age 18, Chapman illustrated a particularly troubling statistic. According to a 2009 study funded, in part, by the National Institute of Mental Health, black American teenage girls are the most likely black teen demographic in the country to die by suicide.
These findings came a few years before another study published in 2015, which found the suicide rate for black children age 5 to 11 doubled between 1993 and 2012. By the end of that time span, black child suicide rates were "substantially above the rate for white children," the New York Times reports.
This was the first time a national study found black suicide rates to be higher than white suicide rates in any age group.
7. ...Even though depression and suicidal thoughts aren't always easy to see.
A facade of happiness and well-being does not always mean all is well. Depression and suicidal thoughts can be hidden, which is why it's unwise — even dangerous — to presume that because Bland was starting a new job and seemed happy with her life, she could not have also been depressed.
8. Black people are less likely to receive treatment for these symptoms than other groups.
This stigma and access issues around depression and mental health are highly pronounced among black Americans. The National Institute of Mental Health reports that although blacks are less likely than whites to have a severe depressive disorder, theirs tend to be more "chronic and severe," and they are less likely to undergo treatment for it.
9. But for anyone — black women included — being locked up in jail puts you at higher risk for suicide.
Statistics show being incarcerated is a risk factor on its own. And, perhaps surprisingly, this is far more pronounced in jails than in prisons.
Suicide was the 10th leading cause of death in the United States in 2012, with 12.6 people per 100,000 dying that way, according to the CDC. The No. 1 cause was heart disease, with 170.5 deaths per 100,000.
In jail, that gap closed drastically. Suicide accounted for 31.3% of jail inmate deaths that same year, with 40 suicide deaths per 100,000 inmates, according to the Bureau of Justice Statistics. After death by illness of any kind, it was the second-leading cause of death in America's jails, even outstripping heart disease (36 deaths per 100,000).
Black women are among the least likely inmates to die this way. That year, 12.7% of inmate suicide victims were women. And black people had the lowest average rate of jail suicides between 2000 and 2012, at 14 per 100,000 deaths versus 80 per 100,000 for whites.
10. Even if you're only there for a brief amount of time.
One of the more sobering aspects of this phenomenon is how it corresponds to time spent locked up. Jails — in which people are incarcerated for shorter periods than in prisons — see much higher suicide rates than their long-term counterparts.
And if you're going to die in jail, it'll probably happen early on in the process — as it did with Bland, Chapman and Jones. Out of all the deaths in jails in 2012, the largest portion — at 36.5% — happened within the first seven days of incarceration. The second biggest wave took place between eight and 30 days, with 21%.
Almost three-quarters (73%) of people who died in jail in 2012 were never convicted of a crime.
The lives of these five women can never be fully explained using a set of dispassionate statistics, facts and figures. But the ways their experiences fit into broader disparities that affect black women are telling. They prove the United States has a much bigger problem on its hands than these individual deaths.