Mark Zuckerberg's Baby Announcement Highlights a Side of Pregnancy No One Talks About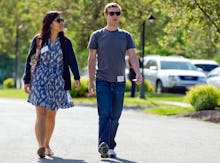 A baby announcement is a moment to get silly, creative and very, very happy. It can also be an important moment for honesty.
On Friday, Mark Zuckerberg and Priscilla Chan announced on Facebook that they're expecting their first child together. Beneath a sweet photo of the couple with their dog, Beast (who, it's worth noting, has better hair than most humans who've appeared on the social network), the Facebook founder wrote an intensely personal note about the couple's struggle to have children:
We want to share one experience to start. We've been trying to have a child for a couple of years and have had three miscarriages along the way.
That trial is one too many couples endure quietly, keeping it quiet while others go on their merry, fertile ways. That's exactly why miscarriage is a pregnancy issue we need to talk about.
Shattering the baby-making myths: Having a baby isn't a simple "yes" or "no" decision, as many young people imagine — particularly those of us who are more focused on not getting pregnant. Once we get to the age when a baby would be a welcome addition, it's not quite as easy as just going off birth control or throwing away the condoms.
Getting pregnant itself can be a challenge. And after conception, U.S. data shows anywhere from 10% to 20% of pregnancies end in miscarriage. Silence surrounding the issue may contribute to certain women not understanding their increased risk of miscarriage — that group includes overweight women or, ironically, "super-fertile" women. Certain job might also up the odds, including flight attendant, as can certain lifestyle choices (though the link between caffeine and miscarriage is fuzzy, thankfully). 
Most salient for our generation is that the older you get, the higher the risks. According to the National Institutes of Health, the risk starts at age 30 and increases between ages 35 and 40. That's a big deal for today's future moms, who are having kids older and older: The average age for a woman to have her first child is now 26 (a historic high), while 14% of first births are actually happening for women 35 and older.
"We hope that sharing our experience ... will help more people feel comfortable sharing their stories as well."
The point isn't to sound an alarm. Rather, the reality around birth — from difficulty conceiving to strenuous pregnancies to, yes, miscarrying — isn't one that gets talked about enough. And not talking about it can lead to confusion or even shame or guilt, as the photos of happy-go-lucky moms-to-be fill our tabloid magazine covers and, yes, our Facebook News Feeds. 
Kim Kardashian had that in mind when openly discussing her difficulty conceiving her second child with Kanye West, prompting them to eventually turn to IVF. Now Priscilla and Mark have given voice to another common problem, one millennials might not even realize is a possibility.
"We hope that sharing our experience," Zuckerberg writes, "will give more people the same hope we felt and will help more people feel comfortable sharing their stories as well."