Jimmy Kimmel Just Had the Perfect Takedown of Lion Hunter Walter Palmer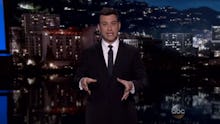 On Tuesday, worldwide condemnation fell upon a Minnesota dentist after news surfaced that he had illegally poached a beloved 13-year-old lion named Cecil from Zimbabwe's Hwange National Park.  
But few were as angry about it as comedian Jimmy Kimmel. On Tuesday evening, the late night host ripped into the dentist, Walter Palmer, calling him "the most hated man in America who never advertised Jell-O pudding." To his audience, Kimmel then speculated Palmer's motives could be rooted in sexual frustration.
In the monologue, Kimmel defended hunting for food or efforts to maintain healthy animal population, but said he had no stomach for the trophy hunting of Palmer and his friends. Choking up, he also urged viewers not to go on a witch hunt for Palmer — who has been in hiding since the news broke — but rather to donate money to WildCRU, a organization that had conducted scientific research with Cecil for years before he was killed.
The Kimmel takedown was only the latest heaped on Palmer from around the world in the last 24 hours. On Tuesday, an army of online trolls attacked the Facebook page of his dental practice, River Bluff Dental, before it was taken down. 
The review website Yelp recorded so many hateful comments directed toward Palmer and River Bluff that it began deleting thousands of them. A Yelp spokesperson told VentureBeat in a statement, "Media-fueled reviews typically violate our Content Guidelines," adding, "reviews aren't the place for rants."
A local Fox 9 reporter was unable to track down Palmer in his home. The River Bluff office, which remains shuttered, has now become a local memorial for Cecil.
Online, the reaction to Kimmel was immediate, with praise pouring in as the monologue went viral. 
Authorities in Zimbabwe announced that two men in connection with the hunt will face charges and are due in court Wednesday. Local officials also said they would be interested in tracking down Palmer as well. According to the dentist, neither officials in Zimbabwe or the United States have so far contacted him, but he would be willing to assist in any inquiry, CNN reported.