The Famous Birkin Crocodile Purse Just Got Called Out — By Jane Birkin Herself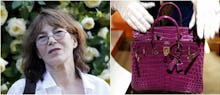 It's got to take a lot for an icon to speak out against her own signature bag.
That's why the fashion world was stunned to hear Jane Birkin had gone on record and called out Hermès for using her name on its Crocodile bag after PETA exposed the cruel practices involved in making it. In a statement to AFP, the French actress and muse said:
"Having been alerted to the cruel practices reserved for crocodiles during their slaughter to make Hermes handbags carrying my name... I have asked Hermes to debaptize the Birkin Croco until better practices in line with international norms can be put in place."
Yes, debaptize the Birkin.
They're strong words from a woman whose name has lived on long past her singing and acting professional peak thanks to the famous purse. Hermes started selling the Birkin bag to the (very wealthy) masses in 1984, eventually expanding the styles from basic black leather to include luxe materials like crocodile. 
Now it's those animal skins that Birkin has taken issue with.
Skinning crocs to make a purse: Hermes caught heat after PETA released damning findings from an investigation into an alligator factory in Texas and a crocodile factory in Zimbabwe. In a gruesome video, PETA spotlights the factories' cruel treatment of animals, including unhealthy living conditions, cutting into animals alive and stabbing them. 
"The investigator saw alligators continuing to move their legs and tails in the bleed rack and in bloody ice bins several minutes after their attempted slaughter," the report said of the Zimbabwe croc factory. 
They added, "Many belly skins are sent to an Hermès-owned tannery where they end up becoming 'luxury' items such as 'Birkin' and 'Kelly' handbags." 
It takes two to three crocodiles to make a single Hermès bag, according to PETA.
But it's not exactly news that plenty of animals are killed to make our luxury goods. PETA has long been at odds with the fashion industry, particularly high-end brands like Fendi that use exotic skins and pelts and famous figures like Anna Wintour, who's made no secret of her love of fur. 
In fact, fur has seen a resurgence as of late, with over 500 designers now using fur in their regular fashion collections, reported Vice — far more than 10 years ago.
Seeing video can make a difference: PETA's blood-curdling videos, along with its sexy "Naked" ad campaigns and public shaming tactics, used to target the fashion industry more overtly; but they had been notably absent in recent years. "The fashion industry appears no longer afraid," the Daily Beast noted in March.
No longer. The crocodile video was viewed over 19 million times, by PETA's recent count, and caught the eye of  Birkin — and Hermès. Following Birkin's condemning statement Tuesday, Hermès responded with a statement reiterating its "friendship" with Birkin and echoing her concerns, including the following:
Hermès respects and shares her emotions and was also shocked by the images recently broadcast. ... 
PETA's report does allege that the croc skins in question "end up" being used for Birkin bags, with a rep telling Mic by phone that "managers from both factories said on video that they have exclusive contracts with tanneries owned by Hermès." By stating the skins aren't used for Birkin bags specifically, the PETA rep said, Hermès is "trying to make misleading statements to distance themselves" from the investigation's overall findings. (Mic has reached out to Hermès for comment and has not yet heard back.)
Unsurprisingly, PETA is pretty pleased with Birkin. "PETA, on behalf of all kind souls in the world, thanks Ms. Birkin for ending her association with Hermès, which makes grotesque handbags that were revealed in a PETA exposé to be constructed from the skins of factory-farmed and cruelly slaughtered crocodiles," they said in a statement Wednesday.
It doesn't look like Birkin will actually be breaking up with Hermès anytime soon, despite what the many hysterical headlines have said, given the French luxury brand's swift and agreeable response. But Birkin's statement just might reignite the conversation about animal cruelty. 
If someone as iconic as Birkin is speaking out, you can bet the fashion world is going to listen.  
h/t The Cut