Canadian Mother Reminds Police It's Not Illegal to #FreeTheNipple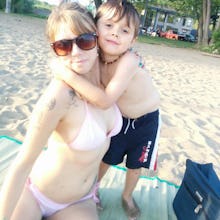 On the evening of July 21, Susan Rowbottom was sunbathing topless on the Lake Avenue beach in her hometown of Kelowna, British Columbia. As she was on the beach, a Royal Canadian Mounted Police officer told her to cover up, allegedly claiming exposed female breasts in public spaces is prohibited by a city ordinance. 
This claim prompted Rowbottom to check the law, only to discover it is, in fact, perfectly legal to have one's nipples out, irrespective of gender. Now, she wants everyone to know their rights.
"We both felt comfortable being topless and an officer came over," Rowbottom told Metro. "He walked straight to us and told us to put our tops on." As she was uncertain of the law at the time, Rowbottom complied. But afterward, she confirmed with the city bylaw office that the officer was wrong — women have had the right to bare their breasts in the town since 1996.
"Hopefully this comes to the RCMP's attention that they can't enforce laws that don't exist," Rowbottom said to CBC's Radio West.
The Kelowna RCMP Detachment Community Operational Support Unit did not respond to a request for comment. Kelowna RCMP Cpl. Joe Duncan told CBC despite the legality of toplessness, he believes women should comply when law enforcement asks them to conceal their breasts for the comfort of others around them.
Though not done in direct connection, Rowbottom's social activism falls in line with the growing #FreeTheNipple movement working to normalize female breasts and eliminate gender-biased social and legal restrictions on women's bodies. Though social networks like Instagram ban almost all female nipples, there have been countless examples of people freeing the nipple, including celebrities such as Miley Cyrus, Chrissy Teigen and Matt McGorry. 
"I think if men can be topless, women should be able to be topless," Rowbottom told CBC's Radio West. "Our society is changing and evolving and I'd like to move forward with that."