Cleveland Protesters Chant Kendrick Lamar's "Alright" During a Police Brutality Protest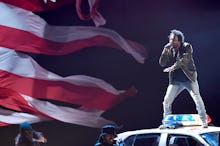 Fox News' worst fears have come to pass: Kendrick Lamar's music has officially been used to inspire protest against police brutality. 
On Sunday, a #BlackLivesMatter conference at Cleveland State University turned confrontational after police detained a 14-year-old boy for allegedly being drunk on a bus in downtown Cleveland. Protesters leaving the conference objected to how the police were "roughing up" and "pepper spraying" the boy, according to local television station WEWS. When protesters tried to intervene, police used pepper spray on the crowd. The protesters held together, locked arms and one of the protesters' anthems they chose to steel their resolve: Lamar's "Alright."
"We 'gon be alright!" Lamar blessed his song with revolutionary fervor in June, when he performed it on top of a police car at the BET Awards. In covering the performance the following morning, Fox News' pundits on The Five objected to Lamar's lyrics and choice of imagery, calling it "counterproductive" and that it "incites violence." Geraldo Rivera repeated his misguided mantra that "hip-hop done more damage to young African-Americans than racism in recent years."
It really didn't look that way in Cleveland this past weekend. "The police, I understand it's a job," Kevin Davis, one of the protesters at the event, told WEWS, speaking to the excessive use of force that the protestors witnessed "but they need to fix out their protocols like any company." 
A statement issued by the Cleveland RTA makes no mention of any unnecessary force. It claims officers followed the "normal procedure," attempting to "[transport the juvenile] to police headquarters to await release to a parent or legal guardian." They were prevented in doing so by the chanting protesters. "A Transit Police officer used a general burst of pepper spray in an attempt to push back the crowd, to no avail," the statement reads. 
Instead the boy received medical attention from an EMS unit before being released directly to his mother. The protest continued after he left the scene.
Cleveland's RTA is investigating the incident and will update as information becomes available. But one fact will not change: Lamar's music helped inspire some feelings of solidarity and revolutionary determination on the scene that day, which what all the best protest music should do.