The Weeknd New Album 2015: Latest News, Track Listings and Release Date Updates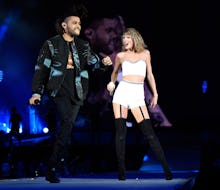 The Weeknd is back. It's been two years since the lyrical powerhouse released Kiss Land, and fans have been clamoring for more Weeknd. Now, his third studio album, titled Beauty Behind The Madness, is set for release on Aug. 28, according to his official website. 
The Weeknd shared the new album's cover art on his Twitter page, along with a link to preorder the album:
Most of the Weeknd's latest top 40 hit singles will certainly be included, including "The Hills," "Often" and "Can't Feel My Face." Genius reports Beauty Behind The Madness was originally referred to by the artist as "Chapter 3" and will include 14 songs geared toward a more pop-centric focus than some of the previous bass-heavy R&B stylings fans are used to. The Weeknd took to Twitter to release a track listing on Tuesday afternoon.
The Weeknd tells the New York Times he has long been hesitant to adhere to industry standards when it came to producing music in many ways. He tells the paper of his older songs:
''[My producers] would always try to structure it, make it more into a song, and I was always a punk: 'I hate major chords. I hate structure. I want this song to be eight minutes long.' It would kill them. My head-space now is, I love choruses, a chorus is not easy.''
Beauty Behind the Madness will feature Ed Sheeran, Lana Del Rey, and Labrinth.