911 Operator Matthew Sanchez Has Resigned After Hanging Up on Friend of Dying Teenager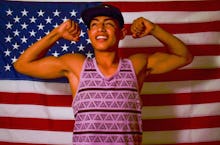 A 911 dispatcher who told the friend of a dying teenager to "deal with it herself" has resigned, a spokeswoman for the Albuquerque, New Mexico, fire department told Mic on Wednesday. 
"Matthew has resigned," said fire department Public Information Officer Melissa Romero, referring to former fire department driver Matthew Sanchez. When asked to confirm Sanchez held no further public position within the city of Albuquerque, Romero responded, "Correct."
Sanchez had previously been placed on administrative assignment, BuzzFeed reported. 
Sanchez had been assigned to the city's police dispatch center on the night of June 26 — all city firefighters also double as police dispatchers — when he received a 911 emergency call. A woman on the other line said her friend had been shot and was "barely breathing." After a brief conversation in which Sanchez objected to the woman's use of language, he ended the call, telling her to "deal with it herself."
Source: Soundcloud
Caller: (inaudible) I'm keeping him alive.
Sanchez: Is he not breathing?
Caller: Barely. (inaudible) Stay with me. Stay with me, OK. Good job, Jaydon.
Sanchez: Is he breathing?
Caller: He's barely breathing. How many times do I have to [fucking] tell you?
Sanchez: OK, [you know] what ma'am? You can deal with yourself. I'm not going to deal with this, OK.
Caller: No, he's going to die.
Even though city police ultimately arrived at the scene, they did not make it in time to save 17-year-old Jaydon Chavez-Silver, who was shot by a gunman from a speeding car. The teenager had been leaving a house party when the incident occurred. 
"We have no suspects in custody and the investigation is active and ongoing," Tanner Tixier, the public information officer for the Albuquerque police, told Mic. "We are following up on several good leads, but nothing that is releasable at this time."
Friends and family of Chavez-Silver announced on a public Facebook memorial page a reward of up to $4,000 for information leading to the capture of his killer. Family members also used the platform as a place to grieve.