Ray Tensing: Here's What We Know About the Officer Who Killed Samuel Dubose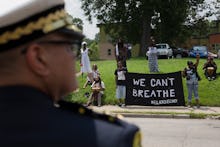 The shooting death of 43-year-old Samuel Dubose during a traffic stop in a Cincinnati neighborhood has sparked cries for justice and launched an investigation. White university police Officer Ray Tensing shot and killed Dubose, who was black, in a fatal encounter many thought was unprovoked. 
What we know about the police officer. Tensing, 26, had worked for the University of Cincinnati Police Department for over a year and had five years of law enforcement experience, according to CNN. He previously worked for the Greenhills Police Department, serving a Cincinnati-area community, from 2011 to 2014. 
Tensing, who started working for the university in April 2014, had received the same training as officers with the city's police force and had a relatively clean work record, including scoring well on an evaluation for proper use of a weapon, CNN reported. 
According to a university police department evaluator, Tensing was "extremely knowledgeable with traffic laws and extremely proactive in that area," documents obtained by CNN revealed. "He has also demonstrated that he is able to control a situation and take over if necessary," the evaluation read. 
Tensing scored high in traffic enforcement evaluations, including "satisfactory" marks in attitude, a measure of an officer's tolerance, friendliness and impartiality, and was even promoted in April, according to WCPO. He attended Police Academy at University of Cincinnati Clermont College and graduated in July 2010. He earned a criminal justice degree from the college two years later. 
"Ray Tensing was a good police officer for us," Greenhills police Chief Neil Ferdelman told WCPO. "There were three performance evaluations on file for him. Two of those were 'meets standards.' One was 'exceeds standards.'" Ferdelman described Tensing as a "very friendly guy" and "very approachable."
Questions from the outside. Despite a clean record, Tensing has faced intense scrutiny over the shooting death of Dubose, who was unarmed, and could be indicted by a grand jury. The officer was placed on administrative leave pending an investigation. Many drew parallels between Dubose's death and that of 28-year-old Sandra Bland, who died mysteriously in police custody earlier this month, as well as the recent shooting deaths of other black boys and men, including Tamir Rice in Cleveland and Michael Brown in Ferguson, Missouri.
The police shooting of Dubose occurred in the city's Mount Auburn district on July 19. Tensing has maintained he feared for his life when Dubose reportedly became confrontational and tried to drive off, possibly dragging Tensing along with him. 
Officials with the University of Cincinnati said the school was taking its own steps to investigate the shooting. "As the result of multiple conversations this past week with community leaders, which were reiterated this morning, the university is initiating a process to hire an independent external reviewer to examine University of Cincinnati Police Department policies, procedures and practices," the school said in the statement, according to NBC News. "We also are moving forward with the creation of a community advisory panel."