Macklemore Opens Up on Drug Relapse, Fatherhood and His Next Album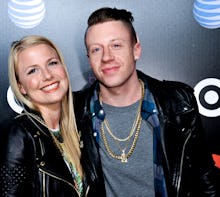 Macklemore has a lot of reasons to celebrate: His fiancé, Tricia Davis, is pregnant with their first child, his Macklemore & Ryan Lewis tour is selling out each night in cities across the globe and he's considered one of the music industry's most promising breakout artists. 
Having previously battled addiction, Macklemore told Complex in a recent interview he's been sober ever since a relapse he had while on tour in 2014 and acknowledged his oncoming fatherhood as part of the reason he's fought to remain clean. He recently shared this very personal and beautiful moment for his growing family on Twitter:
He told the magazine he had been clean since 2011 but eventually found himself falling back into old habits while touring in 2014 with Ryan Lewis. "I stopped going to my 12-step meetings. I was burnt out. I was super-stressed. We weren't sleeping – doing a show every day, zigzagging all over the country. In terms of the media, I was getting put into a box that I never saw for myself. The pressure and the fame – everything ... I just wanted to escape." 
But with the impending responsibility of fatherhood, the rapper said he re-evaluated his life and his priorities. Macklemore told Complex,
"Since I heard that Tricia was pregnant, I was like, I need to grow up right now. I've gotten back to what makes me happy, not in the immediate moment, [but] what's going to make me happy in the long run. None of the money, the fame, the attention, the touring, the endorsement, the Jordan shoe, the TV appearances — none of that, literally none of it, comes close to the fulfillment and gratitude that I feel showing up to a meeting and being sober today."
As for his newest album, the rapper says he's been working diligently to completely the project and release it this year. The rapper tells Complex that the project is roughly 75% complete. 
"As it always works, the minute that I start actively seeking recovery – not just sobriety, but recovery – music is there. It always has been. Songs write themselves. My work ethic turns off-to-on in a second and I get happy again. I get grateful again," Macklemore said.