What Your Favorite Summer TV Show Says About You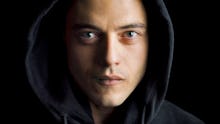 There are a ton of good shows on this summer — far more than you'd usually get during TV's sleepiest season. Thanks to tough competition from Netflix, cable and broadcast networks have been forced to step up. Not every show is good, of course (never forget Kellan Lutz's Bullseye), but generally speaking, anyone can find something for them.
But what does the show you choose say about you? We've compiled a list of 10 of summer TV's best series for a personality litmus test. From hackers to daters to detectives who are true, here's how what you're watching says about you.
Mr. Robot
Network: USA
USA Network's buzziest show since the halcyon days of Monk and Psych stands out for two reasons. It's different, breaking out of the traditional USA show mold (see: Royal Pains, Necessary Roughness, In Plain Sight, Suits, White Collar). It's also pretty good, telling the story of a socially inept hacker who uses his skills to connect with people. The show is early in its first season, so there's plenty of time to catch up.
What it says about you: You spend a lot of time making friends on the Internet.
Unreal
Network: Lifetime
We've written previously about Unreal, the pitch-black Bachelor satire, but the show has arguably become even more compelling in recent weeks. The cast of mostly female characters has grown deeper, with vivid performances across the board. Series stars Shiri Appleby and Constance Zimmer are great, but it's the faux bachelorettes who have proven particularly impressive. Breeda Wool, Johanna Braddy and Arielle Kebbel have each had breakout moments. The series finale airs Monday — maybe this weekend is your time to catch up.
What it says about you: You love to get behind-the-scenes dish. (Alternatively: You are not Bachelorette host Chris Harrison.
The Bachelorette
Network: ABC
If Unreal isn't your flavor, take a dip into the pool of eligible men on The Bachelorette. ABC's distaff counterpart to reality mainstay The Bachelor makes for the perfect bit of summer froth. This season, the series elevated itself a bit above the guilty-pleasure fray. Bachelorette Kaitlyn Bristowe was the series' first sex-positive central contestant, treating the dating-25-men process as naturally as such an absurd thing can be treated.
What it says about you: You believe your soulmate is out there — perhaps among a group of randomly selected 25 men. (Alternatively: You are Bachelorette host Chris Harrison.)
Rick and Morty
Network: Adult Swim
Adult Swim and Cartoon Network has been putting out some of the best programming on TV for years (see: Adventure Time), and Rick and Morty fully belongs in that echelon. Co-created by Community mastermind Dan Harmon, the series follows a scientist with a drinking problem and his grandson. Currently in season two, the series has an impressive supporting voice cast: Saturday Night Live's Chris Parnell, Scrubs' Sarah Chalke and Greek's Spencer Grammer.
What it says about you: You're still a kid at heart.
True Detective
Network: HBO
True Detective is not working this season. The crime series that captured Americans' attention last year has all but flushed it away. And yet a ton of people are still watching. This is despite consensus that this season is bad. If you do tune in, enjoy Rachel McAdams' performance — she's the only one who really knows what she's doing. Vince Vaughn, on the other hand, should probably fire his agent.
What it says about you: You are a glutton for punishment, or you're stuck in the flat circle of time.
Another Period
Network: Comedy Central
Take one part Keeping Up with the Kardashians and one part Downton Abbey. Stir with a Broad City-esque pair of hilarious women, in this case Natasha Leggero and Riki Lindhome. Add a supporting cast full of fun actors, like a post-Mad Men Christina Hendricks. Congratulations, you've got Another Period, which may be the most unique show on television.
What it says about you: You love to laugh and/or stare agape at period design.
Chopped
Network: Food Network
Scene: Tuesday night in an apartment. One roommate heads to the kitchen. "You guys want anything to eat? I'm starving. Man, I wonder what's on the Food Network. Ooh, it's Chopped! I love Chopped. Everything always looks so good. I wanna eat all of that. I should really cook more, y'know? Except anything I make pales in comparison to what they put together on this — and they have such a short amount of time! I usually just get McDonald's instead."
A pause.
"You guys want McDonald's?"
What it says about you: You're hungry and deciding what to order on Seamless.
BoJack Horseman
Network: Netflix
BoJack is one of few comedies Netflix has done right, but much of the animated series' power comes from its seriousness. The show is tremendously smart on the subject of depression. It features a stacked voice cast headlined by Will Arnett. It is quite certainly the best Netflix show you're not watching.
What it says about you: It's midnight and you're looking for something new to watch on Netflix.
Halt and Catch Fire
Network: AMC
Halt and Catch Fire is the best show with the most ridiculous title. (It's tech lingo. You don't need to know what it means.) The series turned around from being more of the same — another show about difficult men on the network that brought you Don Draper and Walter White — to something much more intriguing. The female characters are the leads in season two. Talk about flipping the script.
What it says about you: You're able to watch television with an absurdly silly name without laughing.
Ballers
Network: HBO
Ballers is Entourage made fresh once again. Depending on your viewpoint, that's either joyous or disastrous news. The Rock headlines this series about an athlete-cum-manager played by the Rock. You will understand whether you like this brotastic comedy based on that sentence alone.
What it says about you: You really love the Rock.
Correction: July 31, 2015