Confederate Flag-Wavers Crashed a Black Child's Birthday Yelling "Kill Y'all N*ggers"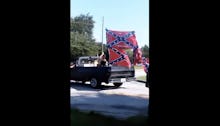 Armed white Confederate flag supporters clashed with attendees of a black child's birthday party in Douglasville, Georgia, over the weekend, culminating in a tense standoff between the two groups and a threat from the Confederate battle flag-bearing band that they would "kill y'all niggers."
Cell phone video captured the ugly incident, in which the threat is barely audible as several trucks laden with the flags leave the scene protected by a line of police officers.
"This is a child's birthday party!" one of the guests also yells in the video.
"One had a gun, saying he was gonna kill the [racial slur]. Then one of them said gimme the gun, I'll shoot them [racial slur]," party organizer Melissa Alford told the Atlanta Journal-Constitution, adding the trucks had passed by several times before stopping in a field next to her house.
Levi Bush, the leader of the truck convoy, told the paper his group, "Protect the Flag," is not hateful and sells Confederate flags from its vehicles. He claimed the birthday party attendees began the fight, but admitted one of the men riding in the trucks likely used a racial slur.
The Douglasville Police Department issued a press release to Mic, stating that officers at the scene "did not see any criminal or traffic infractions," that law enforcement was given "conflicting statements" about what started the altercations and that one person in the Confederate convoy was subsequently arrested on "unrelated charges."
Douglasville police records supervisor Sandy Shiner told Mic via email the department could not provide a "photo or report" on the female arrested, citing Georgia law sealing records related to a "pending investigation or prosecution of criminal or unlawful activity."
Since the South Carolina government removed the Confederate battle flag from its decades-old perch outside its Statehouse following a mass shooting at a historically black church in June, notable groups denouncing its removal have included neo-Nazis and a North Carolina branch of the Ku Klux Klan.
Watch video of the Douglasville encounter below:
h/t Daily Kos