One Tweet Nails the Unsettling Truth About Our Obsession With Cecil the Lion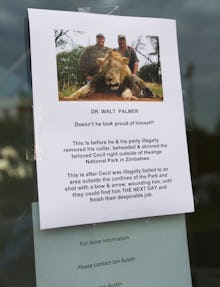 As the Internet continues to collectively mourn the death of Cecil the lion and heap scorn on his killer, Minnesota dentist Walter Palmer, one Purdue University professor offered another take on the tragedy that has many people talking.
In a Wednesday Twitter post, feminist and author Roxane Gay suggested a novel approach for how to draw attention to police violence in America — violence that has overwhelmingly impacted black men, women and children.
While the death of Cecil is undoubtedly a tragedy, the outpouring of grief and media attention for the lion struck a nerve for many who believe that black people killed by the police often get shortchanged.
When Sandra Bland was found dead in a Texas jail cell earlier this month, many in the media and online raced for possible justifications for her death and initial arrest. Footage released by the Waller County sheriff's office shows state trooper Brian Encinia ordering Bland out of her car, where he ultimately arrested her, saying she posed a threat to his safety. On Fox and Friends, co-host Elisabeth Hasselbeck speculated Bland's cigarette could have been used as a weapon.
Even with a media attempt to mitigate her situation, Bland was lucky to get any attention at all. Few of the people now outraged about Cecil could muster the same passion for Rekia Boyd, a 22-year-old black woman killed by a Chicago police detective. 
In the words of Mic's Darnell Moore: 
"Chicago Police Detective Dante Servin had been off-duty when, around 1 a.m., he approached a group that included Boyd in his car. After one of the individuals present, 39-year-old Anthony Cross, walked toward Servin holding what the officer thought was a gun, Servin began firing and hit Boyd in the head. She died on March 22, and Servin was subsequently charged with four counts of involuntary manslaughter, reckless discharge of a weapon and reckless conduct. On Monday, Cook County Judge Dennis Porter dismissed all charges. Servin left the courtroom, surrounded by family and fellow officers, a free man." 
On Wednesday, Cincinnati police released graphic footage showing the death of Sam Dubose, a black man who was murdered by a white University of Cincinnati police officer. The footage was so graphic that the university has closed and riots are expected in the city. With Dubose only the latest in a string of such attacks, the conversation Gay started on Twitter is likely to continue.