Watch the Trailer for Michael Keaton and Mark Ruffalo's Intense Movie 'Spotlight'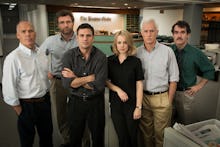 Michael Keaton and Mark Ruffalo's movie is around the corner, and it looks as intense as its controversial subject matter would have you imagine.
A new trailer for Spotlight, the thriller about a real-life investigation into abuses by the Catholic clergy, showcases an all-star cast as the staff of the Boston Globe. They're part of a crack team called, appropriately enough, "Spotlight," and the work they did in 2003 to uncover systematic patterns of child abuse in the church.
The men and women (well, woman — sorry, Rachel McAdams) inhabiting these roles are an impressive lineup:
Judging by the cast and the general capital-I Importance of this trailer, we can expect this will be a huge player come Oscar season. Hopefully the quality will match up to the pedigree — there's something that feels a bit 1990s about this, even though the movie is set in 2003.
That said, calling out the Catholic Church on their rampant patters of abuse is an evergreen topic. Props to writer/director Tom McCarthy for shining a, well, "spotlight" on their hard work.
Spotlight hits theaters Nov. 6. Watch the trailer below.