Dr. Dre Is Dropping His New Album August 1, According to Ice Cube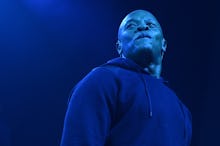 "It's what everybody been waiting for, it's definitely a dope record and he's dropping it all on the same day."
In an interview with Philly's Power 99 radio, rapper Ice Cube said that Dr. Dre will be releasing his new album Saturday. The album, which Cube says was inspired by his new film Straight Outta Compton, will be available 13 days before the August 14 theatrical release of the film.
He told the radio hosts, "Actually, Dre is dropping an inspired album, inspired by Compton. He's dropping something on August 1."
Let's hope this reported promise from Dre actually sticks: He's previously scrapped entire albums at the last minute without any warning, and the Guardian reports he's announced he'd like to work on other inspired albums which never seemed to get off the ground. "I've been studying the planets and learning the personalities of each planet, [and I want to give] my interpretation of what each planet sounds like," he said in 2010, according to the Guardian.