'Wet Hot American Summer': Netflix Series Cast, Trailer and Release Date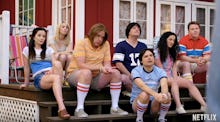 At one point in the 2001 film Wet Hot American Summer, Ben, a soft-spoken drama coach played by Bradley Cooper, asks the group of camp counselors he's spent the summer with to pledge to reunite in 10 years to "see what kind of people we've blossomed into." Fourteen years later, Ben is finally getting the homecoming he wanted.
The crew of Camp Firewood is back for Wet Hot American Summer: First Day of Summer Camp, a Netflix reboot that's a prequel to the original cult classic. The eight-episode series, available for streaming online Friday, July 31, has the same all-star cast that made the first summer camp parody such a success (at least outside the box office). 
The prequel's creators said the mini-series would take fans back to when the campers first met. "The last day of camp from the movie is all about one last chance to do that one thing that you wanted to do before it's too late," the series' co-creator David Wain told Entertainment Weekly. "This is all about beginnings and setting the tone for yourself before it gets locked in for the whole summer."
The Wet Hot cast returns. It was long rumored that Wet Hot would get the sequel (in this case, prequel) it deserved. Then, Netflix announced in January it planned to revive the fan favorite comedy. 
The video streamer released the entire cast lineup  later that month, and Wet Hot fans were thrilled to see that virtually every member of the original cast, even the now-super famous ones, were onboard. Among the  faces we'll see in the Netflix series are Amy Poehler, Elizabeth Banks, Jeneane Garofalo, Paul Rudd, Christopher Meloni, Molly Shannon and Bradley Cooper. 
Also, expect some new faces. Comedy queen Kristen Wiig (who plays a flirty rower) and Mad Men actor Jon Hamm (whose character is a secret spy who ends up fighting Vietnam vet Gene, played by Meloni) make guest appearances in the series. 
The new Wet Hot trailer. Netflix has been teasing fans with clips from the new series. 
"Summer is full of firsts," the voiceover in the latest trailer, released earlier this month, says. "First jobs, first crushes, and the first day of camp." The teaser shows gives fans a taste of the quirky shenanigans to expect from the series. In the trailer, Andy (Paul Rudd) arrive a week late to camp, drama director Susie (Amy Poehler) has a meltdown, Gene has a full head of hair and Lindsay (Elizabeth Banks) forgets her diaphragm. 
"They're younger, they're hotter, they're wetter," the trailer's caption reads. Catch the teaser below, and don't miss the release of Wet Hot American Summer: First Day of Camp on Friday.