Hamilton County Prosecutors Are Treating Samuel Dubose Case as Murder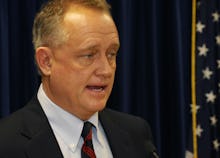 At a press conference Wednesday afternoon, Hamilton County Prosecutor Joe Deters released the body camera video footage showing University of Cincinnati police officer Ray Tensing shooting and killing Samuel Dubose, an unarmed black man, during a traffic stop earlier this month. Deters also announced Tensing would be charged with murder and voluntary manslaughter.
"This was a purposeful killing of another person," Deters told the press Wednesday. If convicted, Tensing could face life in prison.
Dubose was pulled over in Cincinnati's Mount Auburn district on July 19 for not having a front license plate on his vehicle. Tensing turned himself into authorities shortly after the press conference was finished and the footage was made public.
"It was a pretty chicken crap stop, all right, and I could use harsher words," Deters said. A portion of the video can be seen below:
"This is the most asinine act I've ever seen a police officer make," Deters said. "It was unwarranted. It's an absolute tragedy that in the year 2015, anyone would behave in this manner."
Dubose died instantly after being shot in the head by Tensing. Dubose failed to provide a license to Tensing and, after an altercation seemed to escalate out of nowhere, Dubose was killed in his car, and his vehicle was propelled off of the road from the weight of his body on the gas pedal. 
Cincinnati is bracing for protests Wednesday, and the University of Cincinnati closed two campuses in anticipation of the video's release. Cincinnati's last police shooting case was in 2001, and the officer was acquitted on charges of negligent homicide.