Rihanna New Album 2015: Latest News, Track Listings and Release Date Updates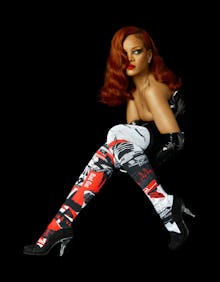 Rihanna seems to love nothing more than surprising her fans, and lately the "Bitch Better Have My Money" singer has been teasing them over the highly anticipated release of her eighth studio album, which she's calling R8.
Update: September 17, 2015
Rihanna recently told NME Magazine "To me it's never done until it's done," letting fans know that the album isn't finished yet. As for her work with Kanye West on the album the artist said "His schedule and mine are totally opposite right now, but I think this month we'll be back in the studio." 
The 27-year-old star from Barbados jokingly captioned this picture on her Instagram account: "the 'where is #R8' starter pack."
Since posting this clever photo, Rihanna has also uploaded a number of teases and sneak peeks from the new album, but hasn't released much information on specifics for the project. She continues to share her work from the studio on social media, dropping pieces of the R8 puzzle, including clips of other artists, such as Nuno Bettencourt:
Between recording new songs, kidnapping fans and surprising them with her latest music video for "Bitch Better Have My Money" and signing onto major partnerships like Puma, Rihanna managed to make time to celebrate her favorite holiday. She released an interlude from a song expected to be on R8, "James Joint," on her website the day after April 20, which you can listen to here.
The song appears to be a slower ballad, far different from the Bad Gal's normal pop party anthems. Even so, her beautiful ode dedicated to the marijuana leaf falls right in line with everything we know and love about the Bajan artist. 
Currently, four songs presumed to be packaged with R8 have been released. The first single, "FourFiveSeconds," features raw performances from both Kanye West and Paul McCartney:
Then, Rihanna unveiled a new video and song titled "American Oxygen," exclusively on Jay Z's music streaming service, Tidal. 
As rumors began to swirl that the release for her new album was approaching, Rihanna shut down the falsehoods with one perfect tweet:
She teased a sultry song called "Higher," also set to be on R8, on her Instagram account:
Fans started clamoring for more information on R8, so RiRi took to her Instagram once more to share the latest album artwork.
Fuse reports Florence + the Machine's Florence Welch shared in a recent interview that Rihanna is sampling a song from the band's album Ceremonials for one of her songs on the upcoming album. 
"I was so thrilled 'cause I'm such a huge fan. She sent me the song and I said of course. It's a sample. I don't want to tell everything about the song, but I think it's a sample ... I love it when stuff like that happens. When people re-imagine your music, I love that when it has all these different forms."
In an interview with MTV News, Rihanna explains why her album has been a long time coming, citing she's grown tired of her old music and realized most of her club hits do little to actually reflect who she is as an artist. 
"I want to make songs that are timeless."