'Arrested Development' Season 5: Latest News, Cast Info and Release Date Updates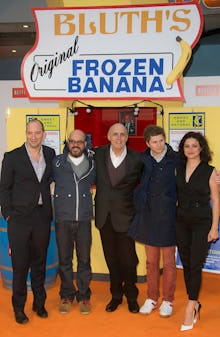 Fans of Arrested Development have long hoped Netflix would get the Bluth family back together once more for a fifth season of the popular Emmy-winning cult series. Producers have confirmed there's still more story to tell, but exactly when the anticipated fifth installment will drop is anyone's guess. 
Netflix officials have hinted at another Arrested Development run since the streaming service released all 15 episodes of season four on May 26, 2013, but they haven't been upfront about a release date or cast lineup. 
That's not to say it's not going to happen. The show's producer, Brian Grazer, said in June the show could begin filming as early as January and stream online by mid-2016, according to Indiewire. 
"More [episodes] are coming for sure," Grazer told CNN Money last week. "The creator Mitch Hurwitz is creating a writer's room right now. We're going to get everybody on board."
The Emmy-winning comedy, which centers on a dysfunctional family struggling to come to terms with the loss of its wealth, ran for three seasons on Fox, from 2003 to 2006. Netflix revisited the show in 2013 when it released season four. The series' cast includes Jason Bateman (playing the show's lead character, Michael Bluth, who's forced to take over the family's affairs while simultaneously jugging their misconducts), Michael Cera, Jeffrey Tambor, Tony Hale, Portia de Rossi, Will Arnett, David Cross and Alia Shawkat.
Talk of the cast returning for season five has swirled ever since Netflix wrapped up season four. Netflix's chief content officer Ted Sarandos recently confirmed the show was "plugging along." 
Unfortunately, creating a new season isn't as easy as we'd like to think and involves a lot of negotiations. "It's a long complex deal to make for these guys, both because the talent is very busy and working on other shows," Sarandos said Tuesday at the Television Critics Association Press Tour in Beverly Hills, California, according to IGN, "but also because the show is owned by [20th Century] Fox. The intent is to have a new season of Arrested Development, and all negotiations are underway."
In August, Sarandos told USA Today it was "just a matter of when." He said the biggest obstacle was working out the actors' schedules. The biggest objection to the fourth Arrested Development season was that the actors rarely appeared in the same frame, something Sarandos said was a "fair criticism." 
Here's Grazer talking about the anticipated fifth season of Arrested Development with Bill Simmons in April.