Antonin Scalia-Inspired Perfume Is as Awesome as We Could Have Hoped For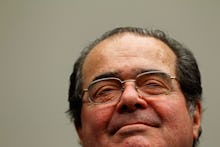 Screw flowers, waterfalls and other trite inspirations that make our perfume. Why not take the bile of one of America's great judicial icons and bottle that?
Thus, with a dramatic flourish was created the Collected Poetic Works of Antonin Scalia, a collection of fragrances inspired by Supreme Court Justice Antonin Scalia. 
"We've had myriad political figures throughout U.S. history that have possessed acid tongues, but few in the modern era have provided such a constant stream of colorfully vitriolic superlatives as Antonin Scalia," writes Black Phoenix Alchemy Lab, the company behind the perfume, on their website. 
That poetry of vitriol has inspired six scents, each drawn from the actual dissenting opinions (get it?) Scalia offered in Supreme Court cases. 
Each fragrance pulls its name directly from Scalia's eloquent words. Mystical Aphorisms of the Fortune Cookie, for example, comes from Scalia's memorable dissent in Obergefell v. Hodges, the case that legalized same-sex marriage:
"The Supreme Court of the United States has descended from the disciplined legal reasoning of John Marshall and Joseph Story to the mystical aphorisms of the fortune cookie."
The fragrance, naturally, is infused with almond cookies. Scalia's dissent in King v. Burwell, which upheld the Affordable Care Act, was in the inspiration for the Pure Applesauce scent.
The Court claims that the Act must equate federal and state establishment of Exchanges when it defines a qualified individual as someone who (among other things) lives in the "State that established the Exchange," 42 U. S. C. §18032(f )(1)(A). Otherwise, the Court says, there would be no qualified individuals on federal Exchanges, contradicting (for example) the provision requiring every Exchange to take the " 'interests of qualified individuals' " into account when selecting health plans. Ante, at 11 (quoting §18031(e)(1)(b)). Pure applesauce.
It was calling for a perfume, no?
Other fragrances include Ask the Nearest Hippie, Mummeries and Straining-to-be Memorable Passages, Looming Spectre of Inutterable Horror and Jiggery Pokery. 
Scalia's evocative writing turns out to be a perfect fit for Black Phoenix Alchemy Lab, the literary-minded perfume company with gothic sensibilities. The company often pulls inspiration from artists, mythology, poetry and even cult movies for its scents. One line was based on the works of Arthur Conan Doyle, while a 2014 collection looked to comic books.
"There are many individuals that have inspired our fragrances, from scientists to politicians, but Scalia... he's one hell of a muse," Elizabeth Moriarty Barrial, co-owner of Black Phoenix Alchemy Lab, told Mic.
As for dabbling in the political realm, why not? We know scent is a powerful force for unlocking memories and recalling important moments in our personal histories. Certain smells — patchouli for 1970s hippies, the flowery scents of our grandmothers — also end up defining the cultural period in which we live. So why shouldn't our fragrances pay direct homage to the political influences of our time? 
In fact, Black Phoenix Alchemy Lab is marking this moment not only by turning Scalia's polarizing words into warm, wearable fragrances; it's also donating proceeds of each $26 bottle to the Southern Poverty Law Center, the Trevor Project and the National Center for Transgender Equality.
"Our primary goal was to try to do the most good in areas where the wrong legal decisions can do the most harm and to look toward the next step for LGBT equality, tolerance education, and civil rights," said Moriarty Barrial. In other words, offering something positive in the face of dissent.
July 31, 10:53 am: 
This post has been updated to include comments from the company owners.