Walter Palmer, Who Killed Cecil the Lion, Faced Sexual Harassment Charges in 2009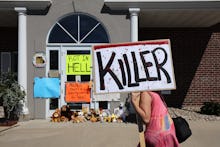 Walter Palmer, the Minnesota dentist who spent roughly $54,000 to shoot Cecil the lion with a bow and arrow in Zimbabwe, also faced charges of sexual harassment in 2009, public records show. 
According to documents, Palmer's receptionist, who was also his patient, accused the dentist of "unwelcome sexual harassment by [Palmer] including, but not limited to, verbal comments and physical conduct involving her breast, buttocks and genitalia." The abuse reportedly took place between 1999 and 2005. The claim also states the accuser's belief that she was fired "in retaliation for reporting the conduct."
The case was settled out of court, with Palmer's insurance company ultimately paying the woman and her attorney $127,000 in fees. Palmer was also ordered to undergo sexual harassment training and provide a letter of recommendation.
It was not the dentist's first run-in with the law. In 2008, Palmer plead guilty to federal charges of making false statements in connection to a bear hunt in Wisconsin. He was sentenced to a year of probation and a fine of $2,938.
Cecil the lion had been the star attraction of Zimbabwe's Hwange National Park; his illegal poaching sparked worldwide condemnation and generated a heated backlash online. As of Thursday morning, the website for Palmer's practice was offline, and its official Facebook page had to be taken down after being inundated by trolls. On the review website Yelp, Palmer's River Bluff Dental received so many hateful reviews and death threats that the Yelp has actively been scrubbing them, a spokesman for the company said in a statement to VentureBeat.  
Palmer himself has not been seen since the story of his involvement with the killing broke on Tuesday. His practice remains closed and has been the site of at least one local protest in the last 36 hours. Outside, messages and trinkets memorialized Cecil and denouncing his killer piled up.
An apology by Palmer shortly after the incident has done little to quell public fury.
Two other hunters have already been called to account to answer for their alleged crimes. Theo Bronkhorst and Honest Ndlovu appeared Wednesday in a Zimbabwean court where they are facing charges of illegal poaching. Both were released on $1,000 bail. Local authorities in Zimbabwe have also expressed interest in potentially charging Palmer as well. A 2000 treaty between the U.S. and Zimbabwe makes it possible that Palmer could be extradited back to the country if he is charged.   
h/t RawStory