2016 Presidential Poll Results: Latest Leaders for Republican and Democratic Candidates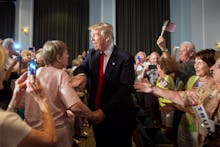 UPDATE Sept. 10, 2015: New York businessman Donald Trump has continued to dominate national presidential candidate polls. On Thursday, Trump became the first Republican White House hopeful to top 30% support among likely voters, CNN reports. 
Trump surged to 32% support this week, according to the latest polling from CNN and ORC International. Neurosurgeon Ben Carson rose to second place among the 17-member Republican field with 19% voter support. Former Florida Gov. Jeb Bush landed in third place with 9% approval. 
Among the Democrats, former secretary of state Hillary Clinton's popularity with voters has slipped further. The latest Monmouth University poll shows Clinton with 42% voter support, down from 52% last month. Vice President Joe Biden and Vermont Sen. Bernie Sanders were neck and neck for second place with 22% and 20% voter approval, respectively. 
Original story: 
The latest 2016 presidential poll numbers are in, and two candidates are sailing smoothly through the early months of the election. 
Once again leading the Republicans is real estate mogul and billionaire investor Donald Trump, whose larger-than-life personality and reputation as a Washington outsider seem to have resonated with a large base of conservative voters, according to a new Quinnipiac University Poll, released Thursday. 
Trump carried 20% of likely Republican voters among the ever-expanding GOP primary field (the official number of candidates reached 17 on Wednesday with the addition of former Virginia Gov. Jim Gilmore, who made a brief bid for the White House in 2008, according to the Wall Street Journal). In second place was Wisconsin Gov. Scott Walker with 13% voter approval, followed by former Florida Gov. Jeb Bush with 10%. 
No other Republican contender had an approval rating above 6%, according to Quinnipiac. 
When it came to frontrunner Trump, whose campaign has had its fair share of cringeworthy moments, voters "love him and they hate him," Tim Malloy, assistant director of the Quinnipiac poll, said in a statement. "Donald Trump triumphs on the stump so far, but do voters really want him? Maybe not so much." 
Former Secretary of State Hillary Clinton, on the other hand, held court among the smaller Democratic primary field, commanding 55% approval among likely voters. Sen. Bernie Sanders of Vermont came in second with 17% of the vote, followed by Vice President Joe Biden, who hasn't indicated for sure whether or not he'll run.
"The good news for Secretary Hillary Clinton is that she is over 50% among Democrats and has a double-digit lead over Trump," Malloy said. "The not-so-good news is that she is locked in too-close to call races with Wisconsin Gov. Scott Walker and former Florida Gov. Jeb Bush."
Were Clinton to face off with Trump in 2016, she would easily best her opponent 48% to 36%,  according to Quinnipiac. However, should she go toe-to-toe with Bush or Walker, the outlook is more uncertain. Polling showed Clinton getting 41% of the vote to Bush's 42% and 44% to Walker's 43%. 
In Colorado, Iowa and Virginia, however, a different story has emerged. Clinton might have the Democratic nomination nearly in the bag, but among swing state voters, she's trailing several other Republican candidates, according to another recent Quinnipiac poll.