Watch the Teaser Trailer for Brie Larson's New Drama 'Room'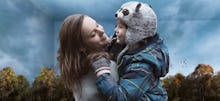 Imagine being trapped in a 10-foot-by-10-foot room for seven years. Imagine raising a child in that space. Imagine living in constant terror of your kidnapper who put you there — the kidnapper who raped you and is the biological father of your child.
That's what Short Term 12 star Brie Larson's movie Room is about. Judging from the teaser trailer, it is exactly as horrifying as it sounds.
Based on the 2010 novel by Irish-Canadian author Emma Donoghue, Room tells the story of 5-year-old Jack and his mother (Larson) as they live in captivity. She tries to make his life the best possible despite the harrowing circumstances, but she eventually has to find a way for them to escape.
Room isn't a traditional horror movie by any stretch, but it has a terrifying premise. This isn't the childish fear of demented clowns or ghosts — this is the adult fear of kidnapping, sexual violation and being a parent to a child constantly in danger. The movie may be calling itself a drama, but there will likely be many an audience member gripping their armrest out of sheer fear.
Yet it's also a hopeful story, one of joy at what happens when a child who's never known the world outside his room finally gets to experience it.
The film also includes Oscar nominees William H. Macy and Joan Allen as the mother's parents. Perhaps Larson, hot off a delightful supporting role in Amy Schumer's Trainwreck, will join them in that elite company for Room this year?
Room hits limited theaters Oct. 16 and expands nationwide Nov. 6. Watch the full trailer below.