"Back to Back" Lyrics: How Drake Destroyed Meek Mill in Latest Diss Track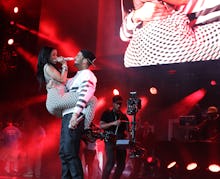 Let's be honest: Drake's first diss track, "Charged Up," wasn't his greatest work. It was aimed at fellow rapper Meek Mill after he took to Twitter to say the Canadian "6 God" rapper employs ghostwriters. So what does any rapper do when their insults weren't hard enough? They hit harder.
Source: Soundcloud
Drake fired off shot after shot at Meek Mill, and directly called the rapper out for being less successful than girlfriend Nicki Minaj: "I'm not the type of nigga that'll type to niggas / And shout-out to all my boss bitches wife-in niggas / Make sure you hit him with the prenup."
Drake has the obvious advantage of having been a part of Minaj's rap clique since her rise to fame under Lil Wayne's Young Money record label. In "Back to Back," he uses his friendship with the female powerhouse rapper-songwriter to completely undermine Meek Mill, saying he doesn't even want to hear about him after Minaj breaks things off in the expected future. He continues: "I did another one, I did another one, you still ain't did shit about the other one."
To be candid, the lyrics absolutely tear apart Meek Mill, and the world of social media took note. GIFs and memes roasting Mill went viral Wednesday evening following the surprise release:
Meek has yet to respond to both of Drake's diss tracks, although he has teased a release is coming any day now. The Atlanta-based rapper tweeted a portion of a song titled "Beautiful Nightmare (Drake Diss)," which seems to just be incoherent screaming: