Ray Tensing Pleads Not Guilty to Samuel Dubose Murder, Bond Set at $1 Million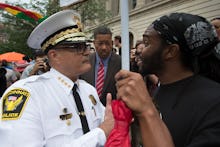 Ray Tensing, the University of Cincinnati police officer who was indicted on murder charges for the shooting death of Samuel Dubose, has pled not guilty to charges of murder and voluntary manslaughter.
Footage from Tensing's body camera was provided to the media Wednesday afternoon after the family of Dubose, 43, pushed to have the video quickly released to the public. 
Tensing, 25, pulled over Dubose for not having a license plate on the front bumper of his vehicle. After failing to provide a license, Tensing asked Dubose to take off his seat belt and then proceeded to open the car door. Dubose used his left hand to stop the officer from opening his door while turning on his engine with his right hand. Tensing then pulled out his gun and shot Dubose in the head. 
Common Pleas Judge Megan Shanahan set Tensing's bond at $1 million as the courtroom applauded. Local television station WEWS reports Shanahan rejected the idea Tensing is a flight risk, and scheduled his next appearance in court for Aug. 9.
Before Tensing's body-camera footage was released to the public, he claimed Dubose dragged his body with his vehicle, causing bodily harm. However, Hamilton County Prosecutor Joe Deters rejected these claims in a press conference Wednesday afternoon where the footage was released.
"This is the most asinine act I've ever seen a police officer make, it was unwarranted," Deters said. "It's an absolute tragedy that in the year 2015 anyone would behave in this manner."
Cincinnati closed two schools Wednesday in anticipation of protests and rioting amid the releasing of Tensing's body-camera footage. 
Correction: July 31, 2015