'Batman v Superman' 2016: Trailers, Latest Images and News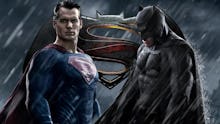 It's the dawn of justice, and two of the biggest superheroes of all time are set to face off in what should be a 2016 blockbuster, Batman v Superman: Dawn of Justice.
We're beginning to find out more and more about one of the biggest comic-turned-film releases from Warner Bros. studios, as director Zack Snyder releases teasers, costume details and more. The film is set to open in theaters March 25, 2016.
The first look at the film was released online April 17 and shows Batman (Ben Affleck) and Superman (Henry Cavill) standing off against each other to a backdrop of news reports echoing the failures of humanity and civilization and discussing both superheroes.
Snyder then released an exclusive trailer for fans at San Diego Comic-Con, unveiling a deeper look into the plot, as well as some appearances from Gal Gadot as Wonder Woman and Amy Adams as Lois Lane.
Other notable actors are signed onto the project, including Jason Momoa as Aquaman, Ezra Miller as the Flash, Jesse Eisenberg as Lex Luthor, Jeffrey Dean Morgan as Thomas Wayne and Holly Hunter as Sen. Finch, according to IMDb.
On his Twitter, Snyder also released a close-up of the costumes both Affleck and Cavill wear as Batman and Superman in a mini-teaser that was released prior to any trailer for the movie:
The Superman and Wonder Woman costumes used in the Batman v Superman film were also unveiled at SDCC this year, and seem to reflect the traditional outfits worn by both heroes in previous appearances in film, TV and comics:
More information on the cast, set images and costume details should be released prior to the film. However, one thing is for sure: This is going to be one of the biggest battles in any DC comics film to date, and fans are anxiously awaiting its release.