Four Confederate Flags Were Found at a Martin Luther King Jr. Historical Site in Georgia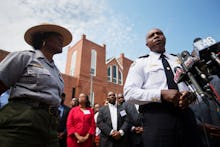 Employees of Atlanta's historically black Ebenezer Baptist Church arrived to a grim surprise Thursday morning: four Confederate battle flags placed around the grounds.
The church sits within the city's Matin Luther King Jr. National Historic Site. Both police and federal law enforcement are investigating, the Associated Press reported.
"This is the first time in my knowledge that flags have been placed here on the grounds of Ebenezer Baptist Church in this national historic site, but there have been flags placed before at the King center site," Judy Forte, the superintendent of the King historic site, told Mic. The King center, which the family of Martin Luther King administers, sits just across from the church.
"Personally I'm just concerned that someone would actually put a Confederate battle flag in a place that represents peace, social justice, harmony [and] fairness which Dr. King consistently preached about," Forte said. 
Atlanta police Chief George Turner said his department was investigating the possibility that the Ebenezer church vandalism was a hate crime. "We've seen this kind of ugliness before," he told a news conference, the AP reported. 
After a racially inspired shooting in Charleston, South Carolina, that left nine dead, pro and anti-flag advocates have squared off offering dueling interpretations of the banner's meaning. According to a 2011 Pew Research Center survey, nearly half of black Americans and a sizable number of white ones hold a negative views of the flag, which is often invoked as a symbol of slavery, secession and white supremacy. Meanwhile, a small but vocal segment, constituting about 9% of all Americans, view the flag positively, typically as a symbol of Southern heritage. 
Official public opinion shifted rapidly on the issue after photos emerged of the Charleston massacre shooter posing with the flag. Earlier this month, South Carolina Gov. Nikki Haley and the state's Republican legislature officially removed the Confederate battle flag from the Statehouse grounds where it had flown since 1961. Despite sparking a protest from the Ku Klux Klan, the move was met mostly with applause or indifference from the political mainstream.
Using the Confederate flag for vandalism and intimidation is an old tool for white supremacists: It's happened at this Michigan landscapers' home, this man's trailer in Florida and this black child's birthday party. "In the climate of today I'm not surprised," said Forte. "But I am certainly disappointed that it happened."