One of the Last Northern White Rhinos in the World Died — And Now There Are Only 4 Left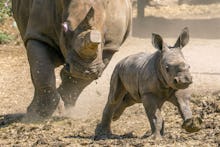 The world's captivation with the death of Cecil the lion has galvanized greater scrutiny on the problems of hunting, conservation and the vulnerability of game animals — which is perhaps what's brought more attention to the death of one of the world's last northern white rhinoceroses.
Nabiré, one of the five remaining northern white rhinos, died Monday at the age of 31 in the Czech Republic's Dv?r Králové Zoo "due to a large pathological cyst that ruptured inside her body," the zoo said in a statement. 
The four remaining northern white rhinos reside in the United States, Sudan and Kenya, which is home to two of them. Of those four, only one male remains and, at 42 years old, he is too old to breed, making the extinction of this subspecies a near inevitability. 
"It is very sad to hear of the news of her death, but I think it's important to make the distinction of different subspecies," Katherine Ellis, office and communications manager at Save the Rhino International, told Mic. Ellis noted while there are only four northern white rhinos left, there are over 20,000 southern white rhinos, which gives conservationists hope. 
"Uncontrolled hunting in the colonial era was historically the major factor in the decline of white rhinos," the World Wide Fund for Nature reports. Social and political volatility, in conjunction with being targeted by poachers, made the northern white rhino subspecies extremely vulnerable.
Ellis explained the more recent decline of the subspecies further: "[Northern white rhinos] were originally found in the [Democratic Republic of Congo] and Sudan, but their populations were decimated around the '60s. By around the early '80s there were only approximately 15 left — that's when the world started caring. The number got back up to 30, but due to resistance in DRC, the population suffered again. It was the result of continued political conflict in the region, which got in the way of conservation efforts." 
No easy solution: Nabiré had fertility problems and was unable to breed naturally, with only one potentially viable ovary. Immediately after her death, the zoo arranged to have that ovary removed in the hopes her eggs can be used for in vitro fertilization.
"It is our moral obligation to try to save [northern white rhinos]," P?emysl Rabas, the director of the Dv?r Králové Zoo, said in a statement. "We are the only ones, perhaps with San Diego Zoo, who have enough of collected biological material to do so. We are aware that our chances are slim, but the hopes are still alive."
Ellis, however, was less optimistic. "It's looking like a very sad situation for them," she said, when asked about the future of the subspecies. "We need to make sure it doesn't go the same way for other rhinos."