A Man Promised a Museum for Women but Made It About a Women-Slaughtering Murderer Instead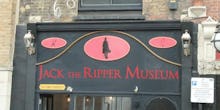 Last year, former Google diversity chief Mark Palmer-Edgecumbe promised to launch "the first women's museum in the U.K." in London's East End, the London Evening Standard reported. The result of his efforts, unveiled last week, however, revealed a deep misunderstanding of how to honor the experience of female trailblazers: The museum has somehow become the Jack the Ripper Museum.
The twisted evolution: The original mission of the project, according to an early proposal Palmer-Edgecumbe submitted, was to "retell the story of the East End through the eyes, voices, experiences and actions" of British women and include "pictures of suffragettes and equal pay campaigners." Yet, instead of honoring British women's subjectivity, this museum focuses on their historical objectification as sex workers and victims of "brutal unsolved murders," the London Evening Standard reported Wednesday.
"We did plan to do a museum about social history of women but as the project developed we decided a more interesting angle was from the perspective of the victims of Jack the Ripper," Palmer-Edgecumb told the London Evening Standard of the seemingly inexplicable change. "It is absolutely not celebrating the crime of Jack the Ripper but looking at why and how the women got in that situation in the first place."
Unsurprisingly, local residents objected to this stark change in mission.
"People are fascinated with these murders because they were so brutal," Jenni Boswell-Jones, a resident in the neighborhood, told the Guardian. "It's not just someone strangling and poisoning, it's physically defiling women. It feels very mercenary and callous."
Even beyond the misogyny that has undeniably usurped a once-feminist effort, residents in the neighborhood note the subject matter is irrelevant. Cable Street, where the museum is located, was "known for Oscar Wilde and Charles Dickens, not Jack the Ripper," Jemima Broadbridge, an east London campaigner and organizer in the community, told the Guardian.
"Cable Street was the home of the anti-fascist march in 1936, that's what it's known for," Boswell-Jones said. "The Ripper murders took place on Batty Street and the Spitalfields area."
The Jack The Ripper Museum opens Tuesday. While some residents have urged local government leaders to reverse their decisions to grant permits for the space, the council told the London Evening Standard that it "has no control" in the matter.
Though the council may not have any control, potential visitors do — and hopefully will the museum's attendance numbers will reflect its insulting mission.
h/t Standard