How This Hashtag Is Helping to Grow Bernie Sanders' Powerful Grassroots Movement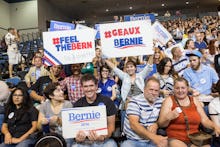 Speaking into a camera broadcasting live from a Washington, D.C., house party Wednesday night, Sen. Bernie Sanders renewed his presidential campaign plea for a "political revolution." Income inequality, the corrosive effects of money in politics and, memories of his Netroots Nations meltdown in mind, the death of Sandra Bland featured prominently in the address, which the campaign said reached "100,000 supporters" attending "more than 3,500 organizing meetings in all 50 states across the country."  
The Vermont independent's energetic upstart bid has enjoyed a steady climb in the polls and the spectacle of thousands of supporters packing convention halls and hotel ballrooms from New Hampshire to Texas to see the candidate deliver his stem-winding stump speech. 
In New York City, about 300 devotees gathered at a bar called The Royal near Union Square to chat, cheer and share their personal information with volunteers dispatched to collect names and email addresses for the campaign. Three supporters lined up outside with a long banner emblazoned with the familiar call to arms: #FeelTheBern. 
Despite its impressive $15 million second-quarter fundraising haul, Sanders remains deeply reliant on the creativity and guile of seasoned outside organizers. "People for Bernie," the group in charge of organizing Wednesday night's gathering in New York, occasionally coordinates with the candidate's team but operates on its own, as its founders insist, to advance and empower its own members. 
The Wednesday night meet-up enjoyed a lively opening act, with an emcee cajoling attendees to take the stage and make the case for "Bernie." When no one took the opportunity, she asked for them to bark out their prized issues. All but "repeal the Second Amendment" were met with rowdy cheers (Sanders has a mixed record on gun control issues). 
By 7:30 p.m., though, the crowd had tired of the warm-up act and began to call for "Bernie!" One problem: technical difficulties had scrambled the link to his live talk. A man with a ponytail and soul patch offered to help with "any AV problems," but organizers shrugged him off. Eventually, someone dialed up a YouTube video recorded the previous day — "Bernie 2016 July 29 Backup" appeared in print over the candidate's right shoulder — and the room fell silent.
The hashtag: Winnie Wong, a former Occupy Wall Street activist who, like so many others, tried and failed to lure Sen. Elizabeth Warren (D-Mass.) into the 2016 fray, co-founded "People for Bernie" with Charles Lenchner, a fellow organizer with a similar resume and shared ethos. Wong, along with a group of "core organizers" hatched #FeelTheBern during a group chat on Facebook.
"We were making light of the situation and coming up with catchphrases we thought would be effective and, you know, 'feel the bern,' it resonates almost immediately," she told Mic on Wednesday. "So we said, 'You know what, let's try it with a tweet.' It caught on pretty quickly."
The ubiquity of #FeelTheBern has become an emblem of Sanders' immense social media popularity and an increasingly useful tool for people like Lenchner, Wong and the "core organizers" who lack access to more traditional and costly tools of engagement. Still, the efficacy of hashtags in the political sphere is very much subject for debate. Critics are quick to point out that, despite the outpouring of attention and emotion, no one ever managed to #BringBackOurGirls. Others cite #OccupyWallStreet and #BlackLivesMatter, two movements that transcended their roots and grown from rallying cry to powerful social movements.
Wong, who describes herself as a "technologist" and makes a six-figure living consulting websites on user experience and audience outreach, is uniquely qualified to tease out the real utility of a booming hashtag. The subject, she concedes, elicits some eyerolls from savvy media types, but the effect, she insists, is undeniable.
"I would explain to people that a hashtag guides the narrative across the different platforms — Twitter, Instagram, Facebook and now even television," she says. "What's most compelling to us about this hashtag is that not only does it continue to grow, it allows us to expand the narrative around this campaign, not just on Bernie's issues, but around all the social justice issues that were important to organizers from the Occupy movement."
The real value, Wong says, lies in its authenticity.
"You cannot pay for this," she explains. "There's nothing that you can do, no ad agency, no PAC, no super PAC — no billionaire can say, 'You know, I really really want to spend a lot of money to make this work for Marco Rubio.' If the people aren't behind it, holding up that hashtag, it's not going to work."
A good slogan: Back at the bar, Sanders had finished his long-awaited remarks and given way, on the screen, to Claire Sandberg, a digital organizer for the campaign. She arrived with a round of sobering news for the crowd.
"We need you to bring this movement to your community," Sandberg said, "to do unglamorous but essential work... like knocking on doors, calling voters, voter registration."
As the attendees filed out — a fraction of them headed to Washington Square Park, where another group of organizers were leading a vigil for Sandra Bland — Aaron Tabackman, 43, lingered with a glass of red wine. He approached Wong and told her he had been at "the first meeting" in early May at T. J. Byrnes, an Irish bar on Fulton Street in Lower Manhattan.
The scene then, Tabackman told Mic, was a bit different than we've become used to seeing on cable news. "It was mostly traditional lefties," he said, "union guys, democratic socialists... and a few old ladies." 
But what did he think about the hashtag — "Which?" — the one on the sign over there?
"It's a good slogan," he said, still searching. "It's a phrase people know, so that's good." 
What's next? In an email to supporters Thursday afternoon, the Sanders campaign trumpeted the big turnout from the previous night's events. 
"In American politics, there are two primary sources of power: organized people, and organized money," it read. "Last night proved that we have the people and that we're well organized." More than 500,000 people have donated, according to the campaign, with an average contribution of $33.26.
#FeelTheBern, meanwhile, rounded out July with 236,304 mentions on Twitter according to Topsy, significantly ahead of #Hillary2016, which showed up 90,157 times:
"The sharpest part of the knife," Lenchner told Mic on Thursday afternoon, "is going to be at the edge." The edge, he explained, is the voting public. The handle, in this metaphor, represents the party establishment and high-level campaign officials. 
Lenchner and Wong are concerned with honing the tip of the blade. Lenchner said that focus will intensify "pretty soon" as "People for Bernie" moves into a new phase, where it will accept donations and make independent expenditures. Depending how it chooses to go about filing with the Federal Election Committee, it could, in technical terms, become a super PAC.
"In the future, anything the campaign wants to tell us, they'll have to say out loud, where everyone can see it, and vice versa, because we are not going to have any communication," Lencher said. "Despite our efforts to not exist in a legal entity space, we are going to have to turn a corner. 
"We have not done so yet, but it's being talked about."