These Are the 6 Acts Not to Miss at This Year's Lollapalooza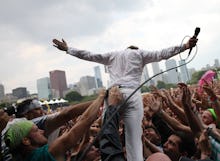 Lolla is upon us. 
Chicago's premiere music festival has come a long way since its 1991 birth as Jane's Addiction singer Perry Farrell's personal touring freak show of a festival. It's fully matured into a true destination for fans to see some of the most celebrated acts in the business, from already immortal legends like Paul McCartney to rising indie scrappers like Bully. The fest now brings in millions of dollars for Chicago, and its ticket prices have been skyrocketing in recent years to match the demand.
If you were lucky enough to snag tickets before they sold out less than an hour after going on sale, here's a list of acts that should not be missed — the first half being three of the most critically acclaimed acts of the year, and the latter three of our possible future leaders.
1. Tame Impala
If John Lennon had lived long enough to collaborate with the Bee Gees, it would have sounded a lot like Tame Impala. The act, which started as a home recording project of Kevin Parker but plays as a full band for touring purposes, may have produced the most inspired feel-good record of 2015. Its sound is an intriguing kaleidoscope of opposites — danceable and contemplative, moody and uplifting, simple and deep — worth every drop of sweat spent holding down a good spot in the crowd.
Check out Tame Impala's latest record, Currents, via Spotify below.
2. Alabama Shakes
Brittany Howard may be the most badass woman active in rock 'n' roll today. Her voice and her band's songwriting developed tremendously in the three years separating their first record, which dropped in 2012, from their second, released in April. They've been exploring all-new genres, from punk to operatic spaghetti westerns, blending them with their raw and familiar blues sound. At shows, they bring it to life expertly note for note, with just enough improvisation to make it feel exciting and new.
Check out their latest record, Sound and Color, via Spotify below.
3. FKA Twigs
The avant-garde is alive and well under the exacting direction of FKA Twigs. A feast for the eyes and ears, Twigs' unpredictable and inventive stage show turns her abstract R&B and electronica into a full sensory experience. Samples of her weird brilliance lace her recent self-directed music video for "Pendulum" and her November performance on The Tonight Show Starring Jimmy Fallon.  Her set was one of the most dramatic highlights of Coachella and will likely offer similarly mesmerizing energy to Lolla's Sunday night.
Check out her latest record, LP1, via Spotify below.
And the small:
4. Raury
A member of hip-hop magazine XXL's 2015 Freshman Class of rising talent, Raury cannot be easily defined as a musician. He's got a definite hip-hop swagger, but many of his songs contain little more than bright and airy acoustic guitar. His deft songwriting continually defies expectations, making him one of the most intriguing young acts in hip-hop. Raury has yet to release a studio full-length, but the expectations for what that might sound like are already running high. Everyone who can should catch him before he blows the hell up.
Check out his debut EP, Indigo Child, via Audiomack below.
5. Bully
Nashville indie punkers Bully released their full-length debut to rave reviews last month. Pitchfork praised singer Alicia Bognanno's vocals as a "resuscitating jolt of protest," while NPR lauded the "sweet and fizzy, barbed and aggressive" sounds the band summoned for their record. Grunge, it seems, is not a relic of the past; it's only been waiting for the right disaffected firebrand to pick up the torch. Bully may be just what all those who can't seem to let go of Kurt have been looking for.
Check out their debut record, Feels Like, via Spotify below.
6. Elle King
Elle King lives the festival life thoroughly and deeply. She's the only singer you will find playing a banjo while rocking a leotard and white tiger-head fanny pack — a la her getup at Bonnaroo.  Her sets are sloppy, colorful and fun, and her personality absolutely shines. It's hard not to find oneself rooting for her as she dances around stage, shooting a handheld water gun into the crowd between her expertly written verses.
Check out her latest record, Love Stuff, via Spotify below.