Orthodox Jewish Man Stabs Six People During Attack at Jerusalem Gay Pride Parade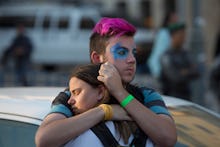 An Orthodox Jewish man stabbed six, critically wounding two, at Israel's annual gay pride parade in Jerusalem, Thursday. 
Police arrested Yishai Schlissel after the incident. Numerous parade-goers said Schlissel had waved a knife and screamed at attackers before launching his attack, BuzzFeed reported. 
Local Israeli sources report the injured were treated on the scene before being rushed to area hospitals. 
"In the state of Israel, the individual's freedom of choice is one of basic values. We must ensure that in Israel, every man and woman lives in security in any way they choose," the Israeli prime minister said in a statement, Haaretz reported. "That's how we acted in the past and how we'll continue to act. I wish the wounded a speedy recovery."
In 2005, Schlissel stabbed three people at the same parade and was sentenced to 12 years in prison. The country's Supreme Court later reduced that to 10, Haaretz reported. Schlissel was released just three weeks ago, according to the BBC.
Public figures in the country across the political spectrum condemned the attack. "Don't give in to the enemies of everything that's good and beautiful about Israel," opposition leader Isaac Herzog said on Facebook. Herzog called the attack a "heinous hate crime." Meanwhile, Benzi Gopstein, leader of the far-right group Lehava, said while he was against the parade, he was opposed to "the stabbing of Jews." 
This is an ongoing story and may be updated.